Margaret Louise Jolliff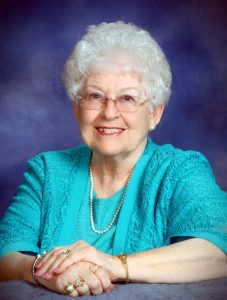 Funeral services for Margaret Louise Jolliff, 89, Bella Vista, Arkansas, will be held at 2:00 p.m., Thursday, January 19, 2023, in the Rose Chapel of Robertson-Drago Funeral Home.  
Mrs. Jolliff passed away at 9:34 p.m., Saturday, January 14, 2023, at Bentonville, Arkansas.
Margaret was born October 22, 1933, at Elk Creek, Missouri, to Richard Kipp Fox and Mary Eupha (Richman) Fox.  She was a former resident of Peace Valley and West Plains, having graduated from West Plains High School with the Class of 1953.  She married Carlos (Perry) Jolliff, also of Peace Valley, on September 20, 1951, at Hardy, Arkansas.  Mrs. Jolliff worked at the International Shoe Company.  In 1965, she moved with her family to Sikeston, Missouri, where she worked at the Toy Factory and, later, at their family business, Jolliff Aviation, as a secretary for twenty-plus years.  Margaret was a sweet, caring woman with a great love for her family, and she enjoyed making holidays special for them.  She loved traveling with Perry to Kentucky Lake, Florida, and Hawaii.  She loved all flowers and anything that glittered and sparkled.  She loved her sweet dog, Tia.  She was a member of Fellowship Baptist Church in Sikeston.  She was a born-again Christian, having put her faith and trust in Jesus Christ at an early age.  Along with other family members, Margaret was blessed to have had some very special brothers-in-law and sisters-in-law that she loved dearly.  She will be greatly missed by all.
She is survived by three sons, Donald Lynn Jolliff and wife, Lea, Painton, Missouri, Perry Wayne Jolliff and wife, Pam, Dexter, Missouri, and Rickie Eugene Jolliff and wife, Susan, Bella Vista, Arkansas; five grandchildren, Donnie, Aaron, Christopher, Ashley, and Haley; and ten great-grandchildren.
Her parents, husband, and two brothers, Robert Dean Fox and Donald Kipp Fox, preceded her in death.
Visitation will be prior to the service, from 1:00 p.m. to 2:00 p.m., Thursday, at Robertson-Drago Funeral Home.  Burial will be at Jolliff Cemetery.  Memorial contributions may be made to Jolliff Cemetery and may be left at or mailed to Robertson-Drago Funeral Home, 211 West Main, West Plains, MO  65775.