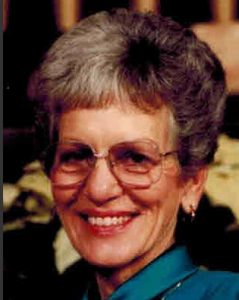 Funeral services for Marjorie Cromer Heinecke, 84, Lawrence, Kansas, formerly of West Plains, Missouri, will be held at 2:00 p.m., Sunday, March 19, 2017 at First Presbyterian Church, West Plains, Missouri, under the direction of Robertson-Drago Funeral Home.
Mrs. Heinecke passed away Saturday morning March 11, 2017 in Lawrence, Kansas.
She was born on January 27, 1933 in rural Howell County to Roy Phares and Freda Mae Taylor Cromer.  She received her elementary education at the Mott School and graduated from the West Plains High School with the Class of 1950.  Mrs. Heinecke was employed by Kellett-Landis in West Plains until she moved to California in 1952.  In 1975 she returned to West Plains where she lived until moving to Lawrence, Kansas in 2015.  On March 22, 1958, after a three-day courtship, she was married to Fred C. Heinecke in Las Vegas, Nevada who survives her.   She was active in her local church serving on the board, as junior choir director, and many other positions.
Marge is survived by her husband, Fred, Lawrence, Kansas; one son, Fred and wife, Kelly, Baldwin City, Kansas; grandson "Quint", Manhattan, Kansas; nephew, Roger Cromer and wife, Linda, Camdenton, Missouri; niece, Ginger Miller and husband ,Joel; nephew, Steve Cromer and wife, Patty; nephew, Jay Cromer and wife, Doreen; nephew, Craig Cromer and wife, Sherri, all of West Plains.  Fred's daughter Becky Dicks of Fallbrook, California always held a special place in Marge's heart.
She was preceded in death by her parents Roy and Freda Cromer, her brother, Junior Cromer, her sister Rosemary Brannon, and her horse, Sadie.
Believing that life was all about serving God and family, Marge had a strong love and devotion to her church, family, and friends.  When meeting somebody she didn't know, she would always say, "I'm Marge to my friends, and you can call me Marge".  Her love for family was beyond description.  A hard worker all her life, Marge was a secretary, bus driver, and a paperhanger; but the title she treasured most was that of farmer.  She often said that her happiest days were spent working cattle with her brother, Junior.  When taking care of her cattle became too much, rather than becoming a lady of leisure, she began to raise goats.  Believing that the best way to be happy in life was to give to others, she was involved in several organizations, volunteered at the Ozarks Medical Center, and on the board at Evergreen Cemetery.
Visitation will be from 6:00 until 8:00 p.m., Saturday, at Robertson-Drago Funeral Home. Burial will be in the Evergreen Cemetery.  Memorial contributions may be made to Evergreen Cemetery and may be left at Robertson-Drago Funeral Home.