Marsha Jan Cawvey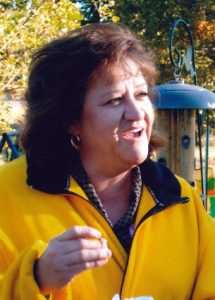 Marsha Jan Cawvey, 65, West Plains, Missouri, was reunited with her sister, Sheila and brother, Craig on April 14, 2020.  While we are very saddened she is no longer with us, we can't help but be envious of their reunion.
Marsha was born October 6, 1954, in Mansfield, Missouri, to Marshall LaVaughn and Janet Lou (Bridgman) Cawvey.  She was the eldest sibling of six children.  Marsha was of the Baptist faith and attended First General Baptist Church, West Plains, Missouri.  She attended school at Glenwood and graduated from West Plains High School with the Class of 1972, where she made lifelong friends.  Marsha had a big heart and a love for people.  She worked for many years as a CNA at local nursing homes and most recently retired from Jones Eye Center in October 2019, after more than twenty-five years of working with the public.  Marsha never met a stranger; her home was always filled with love, music and laughter.  She was always tapping her foot to her own melody; she loved to sing and had a beautiful voice.  She loved to craft and enjoyed sewing, the outdoors, traveling and especially enjoyed spending Wednesday nights with the "Jello" gang.  Her greatest joy was being Memaw to Bianca, Ronnie and Andi and her fur grandbabies, Maisie and Pulse.
She is survived by two daughters, Stephanie Fink and husband, Chris, Warsaw, Missouri and Jenni Collins and husband, Jeremy, Willow Springs, Missouri and their three children, Bianca, Rondall and Andalinn; her father and mother, Marshall and Janet Cawvey, West Plains; one brother, Von Cawvey and wife, Jan, Anchorage, Alaska; two sisters, Robin Torretta and husband, Terry, Farmington and Terri Tomlinson and husband, Brian, Caulfield, Missouri; sister-in-law, Tammy Keith and husband, Jeff, State of Hawaii; brother-in-law, Bob Boggess, State of Hawaii; special sister-in-law, Linda Calhoun; many nieces, nephews, cousins and two very large extended families from previous marriages.
Her brother, Craig Cawvey and sister, Sheila Boggess, preceded her in death.
At Marsha's request, no services will be held.  The family would like to express their sincere appreciation for the overwhelming amount of phone calls, prayers, cards, flowers and messages during this difficult time.  The family would also like to acknowledge the wonderful care provided to Marsha by Hospice Compassus.  Memorial contributions may be made to Hospice Compassus and may be left at or mailed to Robertson-Drago Funeral Home, 211 W. Main, West Plains, MO  65775.