Marshall Cawvey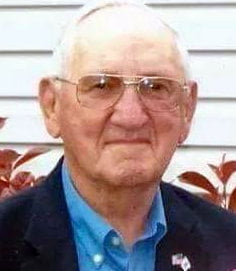 Graveside services for Marshall Cawvey, 93, West Plains, Missouri, will be held at 11:00 a.m., Saturday, May 7, 2022 at State Line Cemetery, under the direction of Robertson-Drago Funeral Home.  
Mr. Cawvey, long-time West Plains resident, passed from this earthly life on May 4 at the home of his daughter in Fair Grove, Missouri. He was 93 years old and died of natural causes.
Marshall was born and raised in Moko, Arkansas. He met the love of his life, Janet Bridgeman, just prior to being deployed to Korea in 1951. He and Janet routinely exchanged letters during his deployment. He meritoriously served in the armed forces as a combat engineer during the Korean Conflict, earning two Bronze Stars. Upon discharge from the US Army, he married Janet on May 22, 1953 in Salem, AR. They would have celebrated 69 years of marital bliss this month. Together they raised six kids who considered themselves extremely blessed to have Marshall and Janet as parents.  Marshall was co-owner of Cawvey Monument Company for more than 30 years before retiring so he could focus on his golf game. He achieved a hole-in-one, a couple of eagles, and "shot his age" several times in his mid-80's. He and his brother-in-law, Bill Bowling, especially enjoyed beating the two generations of sons, grandsons, and other young people whenever they played together.  Marshall was a follower of Christ and member of the First General Baptist Church in West Plains before transferring his membership to the Faith Freewill Baptist Church, Fair Grove, in late 2020. He led a quiet, honest life and was looked up to by many in the community.
Marshall was preceded in death by his parents, Cecil & Lona Mae Cawvey, brothers Hedley and Gerald, sisters Rose and Chris, and children Craig, Sheila, and Marsha.
Survivors include his wife, Janet, sister, Fern Duke, children Von (Jan) Cawvey, Robin (Terry) Torretta, Terri (Brian) Tomlinson, fourteen grandchildren, and twenty-one great grandchildren.
Visitation will be held from 6:00-8:00 p.m. Friday, at Robertson-Drago Funeral Home.   In lieu of flowers, memorial contributions may be made to Seasons Hospice (a non-profit organization), and may be left at or mailed to Robertson-Drago Funeral Home, 211 West Main, West Plains, MO  65775.