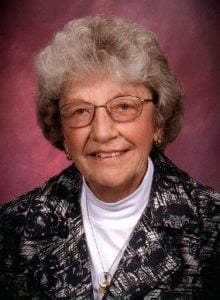 Funeral services for Martha Mae Henry, West Plains, Missouri, will be held at 11:00 a.m., Wednesday, November 14, 2018, at the First United Methodist Church, West Plains, under the direction of Robertson-Drago Funeral home.
Martha Mae Henry was born July 10, 1928, in West Plains, Missouri, the only child of the late Paschall O. Johnson and Mamie M. (Wadley) Johnson.  Marty, as she was known by her friends, entered into eternal rest November 11, 2018, at the age of 90 years.
Marty attended West Plains Public Schools and graduated from West Plains High School in 1946. During her junior year, she was selected for membership in the Quill and Scroll Society, an achievement of which she was most proud.
While in her senior year of high school, Marty met the love of her life, the late Harold L. Henry, also of West Plains. Harold and Marty were married March 14, 1948, and made West Plains their home for a period of time before moving to Willow Springs. While living in Willow Springs, Marty gave birth to two of their three children, sons Lynn and Don. In 1951, the family moved to Springfield so Harold could attend college at Southwest Missouri State (now MSU). They later moved to Columbia for Harold to attend the University of Missouri School of Law. While in Columbia, Marty worked in the pathology lab at the University of Missouri Medical School. After Harold obtained his Juris Doctorate degree in 1956, they moved to Jefferson City where Harold worked as an Assistant Attorney General of the State of Missouri. A few months after moving to Jefferson City, their daughter, Terre, was born. In December 1957, the family returned to West Plains, making it their permanent home.
While Harold and Marty lived in Jefferson City, they became members of the First Methodist Church and were faithful members of the church for the remainder of their lives. Marty and Harold both taught Sunday school. Harold taught high schoolers, and Marty taught younger age children for 14 years. Marty also helped with Vacation Bible School for a number of years and was one of the organizers of the Friendship Circle Preschool.
Marty was an avid golfer, making nine hole in ones. She enjoyed playing with her lady friends and with Harold in the Cat and Dog League. She and Harold also enjoyed crappie fishing for many years. Although Harold usually caught the most fish, Marty caught the big one, a 2 ¾ lb. crappie, and had it mounted and hung on Harold's law office wall as a reminder that she caught the biggest one.
Marty's favorite pastimes also included cooking, reading and cross-stitching – often times Bible verses and prayers which she gave to family and friends.  Marty was a member of the Women's Federated Library Club serving as President, Secretary and Historian for a number of years. She was noted for and enjoyed giving the history of the library club to new members. She was also a member of the MSU-West Plains Philanthropic Women for Education and a lifetime member of the Friends of Garnett Library.
In 1995, Marty and Harold established the Judge Harold and Martha M. Henry Endowed Scholarship for students attending the West Plains campus of MSU who are in need of financial assistance. Over the past 23 years, they have already helped more than 50 students obtain their college educations.
Following Harold's death in 2007, Marty volunteered two afternoons a week at Brooke Haven Health Care until she was physically unable to help. Marty's children describe her as a devoted wife and exceptional mother. When the children were in grade school, Marty served as a homeroom mother and was active in the PTA. She and Harold rarely missed the children's ballgames, concerts and school functions. Marty also served as a cub scout den mother and a brownie and girl scout leader. Marty is fondly remembered by her family for her cooking, most notably her homemade rolls, sugar cookies, German chocolate cake and pies, and she loved showing her grandchildren how to cook.
She is survived by three children, H. Lynn Henry and wife, Becky, West Plains, Judge Don M. Henry and wife, Connie, West Plains, and Terre Ann Franken and husband, John, Carrollton, MO; five grandchildren, Jennifer Donn Davis, Jason Richman Henry, Regan Lynn Henry, Dr. Sarah Emily (Franken) Bernard and Laura Elizabeth Franken; two step grandchildren, Pamela Tackitt and Megan Dorris; three great-granddaughters, Brina Jacen Davis, Kaelyn Nicole Henry and Cora Mae Bernard; three great-grandsons, Bode Mack Henry, Dylan Tribble and Asher John Bernard; three step great-grandsons, Joshuah Jeffery, Jeremiyah Jeffery and Trintan Hendrix; and two step great-granddaughters, Hayley Dawn Tackitt and Kierstin Renae Tackitt.
Marty was preceded in death by her parents and her husband, Harold.
Mrs. Henry will lie in state from 1:00 until 9:00 p.m., Tuesday, at Robertson-Drago Funeral Home.  Burial will be in the Oak Lawn Cemetery. In lieu of flowers the family suggests memorials in Marty's honor be made to the Friendship Circle Preschool of the First United Methodist Church, the Judge Harold and Martha M. Henry Endowed Scholarship or CASA (Court Appointed Special Advocate for children) and may be left at Robertson-Drago Funeral Home.