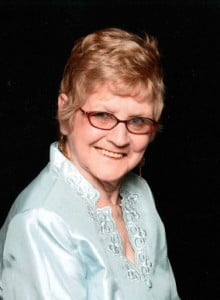 Visitation service for Martina Herman "Marty" Crowder, 70, West Plains, Missouri, will be held from 6:00 until 8:00 p.m., Tuesday, August 25, 2015, in the Rose Chapel at Robertson-Drago Funeral Home.
Mrs. Crowder died at 11:45 a.m., Friday, August 21, 2015, at her home.
She was born May 4, 1945, at Caro, Illinois, to Herman Issac Dismore and Louise Lee Vinson Dismore.  She enjoyed her grandkids, races, fishing, bingo, going to the casino and Cloud 9 Ranch.  Mrs. Crowder was of the Baptist faith.
She is survived by three children, Twila "Ko" Smith, Therese "Rena" Robinson, husband, Art, Heather LeAnn Duke, husband, Glenn; one step-son, Donnie Crowder, wife, Melissa; step-mother, Arlene Dismore; twelve grandchildren, Jennifer, Cody, Aaron, Brandon, Zach, Hayley, husband, Dustin, Casey, Scotlynn, Cassey, husband, Ethan, Kyle, Jarred, wife, Mickaela and R. T.; two great-grandchildren, Millie and Kinzlee; four step-grandchildren, Macy Danielle, Alana Nicole, Devon Lance and Maddie Kay; one step-great-grandchild, Gunner Case; six sisters, Alice Lee, Jesse May, Petty Pearl, Patsy Charlene, Sherry Ann and Terri Ann; and numerous nieces and nephews.
Her parents, one son, Darren Ray Smith, one brother, Charles Allen Dismore, one sister, Sharon Kaye Blackburn and special friend, Bob Modlin, precede her in death.
Memorial Contributions may be made to Cloud 9 Ranch and may be left at Robertson-Drago Funeral Home.