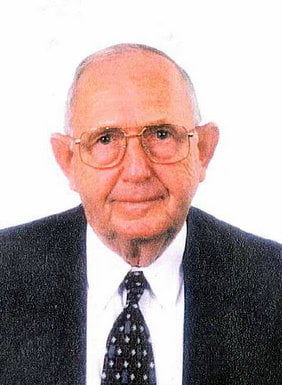 Funeral services for Marvin Henry Lewis, 86, West Plains, Missouri, will be held at 11:00 a.m., Monday, May 5, 2014, in the Rose Chapel at Robertson-Drago Funeral Home.
Mr. Lewis died at 4:40 a.m., Friday, May 2, 2014, at NHC Healthcare.
He was born January 3, 1928, at Mount Pleasant, Arkansas, to Ervin Lewis and Myrtle Ferguson Lewis. On October 15, 1949, he was married at Salem, Arkansas, to Virgie "Louise" Alsup, who preceded him in death on September 10, 2013. Mr. Lewis was a veteran, having served with the United States Army during World War II. Before his retirement he worked at the International Shoe Factory. He loved to shoot pool and enjoyed gardening. Mr. Lewis was a member of the First General Baptist Church.
He is survived by one sister, Charlene Dunlap, Harrison, Arkansas; two brothers-in-law, Orvil Dean Alsup, wife, Linda, Franklin, Tennessee and Amos Alsup, wife, Martha, Arcola, Missouri; one sister-in-law, Opal Alsup, Rockford, Illinois; and several nieces, nephews and cousins.
His parents, wife and brother-in-law, Noah Alsup, precede him in death.
Mr. Lewis will lie in state from 4:00 p.m., Sunday until service time at Robertson-Drago Funeral Home. Burial will be in the Oak Lawn Cemetery. Memorial contributions may be made to the Gideon Bible Society, and may be left at Robertson-Drago Funeral Home.