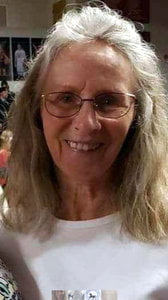 A celebration of Life Service for Mary Ann Leroy, 77, Dora, Missouri, will be held at 2:00 p.m., Saturday, September 23, 2023, at Family Life Church, Dora, Missouri.    
From her family home, the cowgirl rode away to receive her Crown of Glory on September 15, 2023.  
She was born August 14, 1946, at Dora, Missouri, to John O. Freeman and Velma Freeman.  Mary Ann attended school in Dora and on July 4, 1964 was married to Dwaine Warren; two boys came from their union.  Mary Ann was united in marriage on December 8, 2001, to Ronnie Leroy, who had two boys.  She was a dedicated factory worker in West Plains.  Mary Ann was a baptized believer and a member of Family Life Church, Dora, Missouri.  She enjoyed the simple things in life from trail rides to horse shows and living life on the farm with her husband.  Time with family was important to her.  Mary Ann had an intense love of nature and animals, especially her dogs and horses.  As a Wife, Mother, Grammer and Friend, Mary Ann walked the talk.  Happy Trails until we see you again.
She is survived by her husband, Ronnie, Dora, Missouri; two sons, Mark Warren, Dora, Missouri and Vince Warren, State of Connecticut; two step-sons, Ronald Leroy and wife, Kari and David Leroy and wife, Crystal, all of Dora; special friend, who Mary loved like a daughter, Deanna Frazier and husband, Donny, Dora; nine grandchildren and twelve great-grandchildren, Weston Warren and wife, Ally (Langston), Kendra Shankle and husband, Justin, (Remi and Kimber), Garrett Warren, Andalyn Warren and husband, Jared Rauso, (Mylan and Marigold), Kianna Warren and Dustin Reynolds (Kiegan and Nolan), Brianna Newton and husband, Shannon, (Kolton), Dylan Leroy and wife, Jessica, (Adylan and Lauren), Nicole Griffin and husband, Jonathan, (Jaxton), Clayton Leroy, Morgan Melvin, (Kayson) and Caleb Frazier. 
Her parents preceded her in death.  
Memorial contributions may be made to Sweeton Pond Cemetery, Family Life Church or Dora FFA and may be left at or mailed to Robertson-Drago Funeral Home, 211 West Main, West Plains, MO  65775.