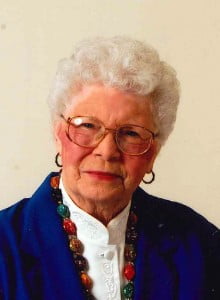 Funeral services for Mary Jane Fenwick, 93, West Plains, Missouri, will be held at 2:00 p.m., Saturday, February 13, 2016 in the Rose Chapel at Robertson-Drago Funeral Home.
Mrs. Fenwick passed away at 3:00 a.m., Tuesday, February 9, 2016 at Ozarks Medical Center.
She was born November 7, 1922, at Amy, Missouri, to William "Scott" Hicks and Mary Lee Wood Hicks.  On October 9, 1945, she was married at Salem, Arkansas, to Ervin Fenwick, after he had served four and a half years in the United States Army Air Corp with much of that time being spent in England; Ervin preceded her in death on March 15, 1995.  She and Ervin were married for fifty years.  Mary Jane was a graduate of Bakersfield High School in 1939 and received a Bachelor's degree from San Diego State University in 1967.  She started teaching in a one room country school in Howell County and went on to teach elementary school in the San Diego City Schools until her retirement in 1984.  Mary Jane and Ervin moved back to West Plains after their retirement where they loved being together with her wonderful Hicks family and numerous friends.  Mary Jane continued to enjoy quilting and crafts.  She always loved sports and played on the Bakersfield High School basketball team and also played on the J. C. Penney's softball team in El Cajon, California.  Mrs. Fenwick was a member of the Curry Street Church of Christ.
She is survived by two sons, Greg Fenwick and wife, Shirley, Winlock, Washington and Randall Fenwick, West Plains, Missouri; four grandchildren, Steve Fenwick and wife, Lisa, Lake Havasu City, Arizona, Jordan Fenwick, Cardiff, California, Debbie Webster and husband, Jim, Winlock, Washington and Becky McElhaney and husband, Dr. Rob McElhaney, Winlock, Washington; five great-grandchildren, A. J. McElhaney, Lauren McElhaney, Daniel Webster, Heather Brokus and T. J. Brokus; one great-great-grandson, Jack; many special nieces and nephews, including, Marianna Hicks, Jeff Huff, Janet and Kenny King, Dan and Anna Thompson and Brian and Sara Powers.
Her parents, husband, her ten siblings, Nova, Dick, Mack, Wood, Taz, Joe, Tom, Lillian, Jack and Bill Jr. and her very special niece, Wilma Lee Atkins, precede her in death.
Mrs. Fenwick will lie in state from 5:00 until 9:00 p.m., Friday, at Robertson-Drago Funeral Home. Burial will be in the Moody Cemetery.  Memorial contributions may be made to Moody Cemetery and may be left at Robertson-Drago Funeral Home.