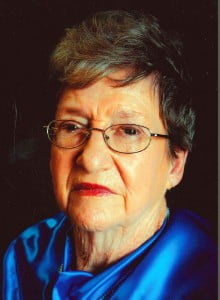 Funeral services for Maxine Roberts, 85, West Plains, Missouri, will be held at 2:00 p.m., Monday, January 11, 2016 in the Rose Chapel at Robertson-Drago Funeral Home.
Mrs. Roberts passed away at 8:20 a.m., Friday, January 8, 2016 at her home.
She was born December 21, 1930, at Bakersfield, Missouri, to Lee Rhine and Alma Faye Thompson Rhine.  On March 20, 1948, she was married at Mountain Home, Arkansas, to Kenneth Earl Roberts, who preceded her in death on October 26, 1993.  Before her retirement, she worked at Baxter Lab, Mountain Home, Arkansas.  She loved to garden and enjoyed sewing, cooking, crocheting and quilting.  Mrs. Roberts was of the Baptist faith.
She is survived by four children, Marjorie Hensley, Caulfield, Missouri, Larry Roberts, Pottersville, Missouri, Bobby Roberts and wife, Becky, Pottersville, Missouri and Lisa Belcher and husband, Freddy, South Fork, Missouri; eleven grandchildren, Tracey Lea Seats and husband, Dewayne, Casey Lynn Hensley, Stacy Lynn Hensley and wife, Stephanie, Amy Marie Roberts and fiancée Justin Gerdes, Jeffery Lynn Roberts, Robbie Collins and wife, Misty, Rodney Allen Roberts, Heather Haddock and husband, Gary, Derek Gene Belcher and wife, Lacey, Craig Lee Belcher and fiancé Jen and Ethan Levi Belcher; nineteen great-grandchildren, Makenna Seats and special friend, Barrett, Walker Seats, Victoria Ester Hensley, Allen Riley, Kendall Riley, Mackenzie Kiann Roberts, Aaron Roberts, Kaylee Cauthen, Trey Cauthen, Bryson Gerdes, Brayden Gerdes, Brayden Lee Perkins, Valarey Lee Perkins, Kenneth Dwayne Belcher, Jr., Naveah Gerdes, Cody Hawkins, Christopher Reed, Damon Brixey and Daggon Collins; one sister, Donna Evans husband, Delbert, Bakersfield, Missouri; and several nieces and nephews.
Her parents, husband, one sister, Eunice Billyjean Williams, brother-in-law, Ang Williams, father-in-law and mother-in-law, O . L. and Augusta Roberts and three sisters-in-law, Louise, Bernice and Ileen Roberts, precede her in death.
Visitation will be from 6:00 until 8:00 p.m., Sunday, at Robertson-Drago Funeral Home. Burial will be in the Gospel Hill Cemetery.  Memorial contributions may be made to American Diabetes Association or Alzheimer's Association and may be left at Robertson-Drago Funeral Home.