Melvin LeRoy (Nick) Nichols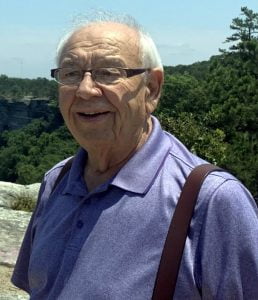 Melvin LeRoy (Nick) Nichols, age 86 of West Plains, Missouri, entered eternal rest on Saturday, January 15, 2022. Melvin was born on January 4, 1936 on the family farm located along the banks of Barren Fork Creek in Thomasville, Missouri.
Two themes characterize Melvin's life: strength and loving sacrifice. His early days on the farm were filled by working, fishing and hunting alongside his brother Charles. His physical strength, strong work ethic, love of family, and penchant for telling a good story came from working the fields, baling hay, and attending public school in Thomasville.
As a high school standout, switch-hitter, Melvin was offered a full scholarship to the University of Missouri. His humble, hardworking nature, instead, led him to begin earning money working for the Union Pacific Railroad in Kansas. On a return visit, while driving the back roads of southern Missouri, he had a providential meeting with a girl in search of blackberries named Wilma who was riding in the back of a pickup truck. The truck stopped in front of the post office where a soda was shared leading to a long distance, letter-writing relationship with his first envelope simply addressed to "Wilma Kildow/Dalton, Arkansas." Melvin and Wilma were married in Hamil, Arkansas on January 5, 1959 after a courtship of only 13 dates.
In 1968, the bootstrap business "Nick's" was founded in West Plains with sales of Vietnam-era military surplus. The storefront was initiated with a small amount of cash, a truckload of combat boots, and an abundance of determination. Within months, Melvin relocated the thriving business to a historic building on Washington Avenue. His expanded inventory featured an eclectic mix of musical instruments, western boots, and diamond jewelry. Melvin's honesty, trading skills, and keen eye for unique and useful items led to a large base of loyal customers, many of whom stopped by just to "visit awhile with Nick."
Many locals have fond memories from the 1970s of playing on Nick's sponsored youth and adult city-league sports teams. There are also teammates of Melvin's who will remember the opposing players calling out, "Walk this one!" or "Move back to the fence!" when he would come up to the bat.
Shortly after retiring, Melvin made family and community memories with his restoration of the 1896 cast iron molasses mill used by his father and grandfather. Howell Valley students, including his own grandchildren, were invited to witness a horse-drawn method of molasses making, with the sorghum cane being grown, milled, and cooked on his own farm. Melvin was an expert gardener who shared his massive harvests.
In the family home, Melvin provided a strong nurturing legacy. He never missed his children's or grandchildren's school plays, concerts or sporting events. He often took his children and grandchildren on wonderful adventures, whether fishing at the creek close by or camping at National Parks far away, including a month-long, camper van trip to Alaska. He was a demonstrative supporter of others' passions and pursuits. His gifting of musical instruments, lessons, art supplies, animals, or sporting equipment launched happy and successful lifelong pursuits for his children and grandchildren.
At 70 years of age, despite recently recovering from a heart attack, Melvin designed, planned, and constructed a lovely, practical home to share with the love of his life and companion of 63 years. The family finds comfort in knowing he lived a long, mostly healthy life. His signature sendoff involved a firm loving hug followed by a breathtaking, hearty "Papa-pat" on the back.
Melvin is survived by his loving wife, Wilma Nichols, of the home; three children, Rhonda Richter, Mark Nichols (wife Kristy) of West Plains, and Janet Godon (husband Ken) of Columbia, Missouri; seven grandchildren, Philipp Richter (wife Erica), Kelly Pompei (husband Kyle), Alexandra Richter, Ransom and Justin Nichols, Lauren and Lucas Godon; two great-grandchildren, Nolan Richter and Landon Pompei; brother, Charles Nichols; along with many nieces and nephews.
Melvin was preceded in death by his parents Charlie and Nellie Nichols, and son-in-law, Juergen Richter.
A future public celebration of life will be planned. Burial will be privately observed with family at Howell Memorial Cemetery. Online condolences can be left at Robertsondrago.com. Be kind and take care of each other.