Michael Moffis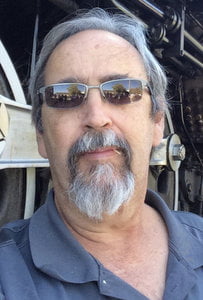 A memorial service will be held at a later date for Michael Patrick Moffis, 60, West Plains, Missouri.
Mr. Moffis passed away at 9:59 a.m., Friday, January 1, 2021, at Barnes Jewish Hospital, St. Louis, Missouri.
He was born January 5, 1960, at West Plains, to Doyle and Rosa Freeman Moffis. Besides his grandchildren, Michael's passion was model trains and he was a founding member of the West Plains Model Railroad Club.   
Michael is survived by his wife of thirty-eight years, Karen Anderson Moffis; two sons, Steven Moffis and Evan Moffis and wife, Megan; step-son, David Biring and wife, Denise; eleven grandchildren, Gideon, Eli, Thaddaeus, Cora, Lainey, Matthias, Mykul, Jonas, Esaias, Sadie, and Emery; brother-in-law, Mike Anderson; niece, Lorenda Roberson; nephew, Joe Anderson; uncle, Hobert Moffis; and several great-nieces, great-nephews and cousins.
He was preceded in death by his parents, Doyle and Rosa Moffis, one brother, Rickey, one sister, Pam and father-in-law and mother-in-law, Jack and Pauline Anderson.
Memorial contributions may be made to the West Plains Model Railroad Club and may be left at or mailed to Robertson-Drago Funeral Home, 211 West Main, West Plains, MO  65775.