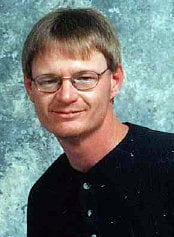 A Memorial Service for Michael Wayne Cook, 45, West Plains, Missouri, will be held at 7:00 p.m., Friday, December 18, 2015 at Genesis Church.
Mr. Cook passed away at 9:00 p.m., Wednesday, December 9, 2015 at Mercy Hospital, Springfield, Missouri.
He was born October 19, 1970, at West Plains, Missouri, to James Lynn Cook and Barbara Jolliff Cook.
He is survived by his mother, Barbara Cook and daughter, Isobel Cook, West Plains, Missouri; one brother, David Cook and wife, Crystal and Mason, Hayden, Ravin and Lauren and husband, Jared Brassfield; one sister, Teresa Uminn and husband, Douglas and Megan; one uncle, Jim Jolliff, Sr. and wife, Pat; and cousins, Jim Jolliff, Jr., Mark Jolliff and Ty Jolliff and families.
His father and grandparents, Mattie and Cecil Jolliff and Russell and Mae Cook, precede him in death.
Memorial contributions may be made to the Ronald McDonald House or OMC Cancer Treatment Center Building Fund and may be left at Robertson-Drago Funeral Home.