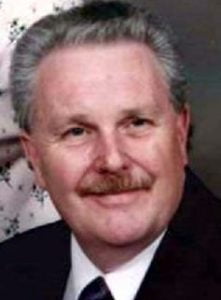 A Celebration of the Life of Michael Lee Weaver, 68, West Plains, Missouri, will be held at 10:00 a.m., Friday, October 21, 2016 at the Langston Street Chapel of Robertson-Drago Funeral Home.
Mr. Weaver was promoted to sweetest angel status October 16, 2016.
He was born January 23, 1948, at Richmond, California, to the late Littleton Moore "L.M." Weaver and Helen Juanita Vangundy Weaver.  Michael enjoyed life to its fullest. He loved to be surrounded by his family and friends, especially for Sunday dinners at his home in West Plains. Michael had a unique ability to establish long lasting, personal relationships with all those he met along the way.   Michael enlisted in the United States Air Force on September 5, 1968 at Oakland, California and was assigned to Lackland Air Force Base in San Antonio, Texas. He completed a tour of duty arriving in Cam Rahn Bay, Vietnam December 28, 1969. He obtained the rank of Sergeant and was honorably discharged on September 5, 1972. From the first time Michael dove into the waters in the San Francisco Bay with his father he enjoyed scuba diving and surfing. In later years, he took pleasure in playing golf with his buddies and family. Michael enjoyed coaching and playing softball, and was particularly fond of his winning women's softball team.   His greatest joy, however, was in his roles as husband, father, grandfather, uncle, and friend. He found much happiness spending time with his daughters and his grandson, Benjamin.  To many of his friends he was known as "Buff," but his heart's delight was being Daddy and PaPaw.  You could find him cheering on his daughters at piano recitals, volleyball games, and band half time shows. He took pride in their scholastic and extracurricular activities and he participated in helping them start their first business venture of washing and detailing cars.  Michael worked at Southwest Truck Body (now known as DRS) for 32 years. He began as a grinder/riveter and promoted to several jobs of high responsibility and leadership. He fostered and nurtured many close relationships during his career.
Michael is survived by his wife Dianna of 43 years; he will not only be missed by Dianna, but his daughter, Sara Dockins and husband Michael; his daughter, Tara Weaver and her son Benjamin Michael; his mother-in-law, Reva Simpson; two sisters-in-law, Cheri Beavers and husband Richard and Debra Simpson; niece, Erica Walker, and husband Kyle and their children Gracelyn and Brett.  Michael was especially grateful for his care giver Joyce McEntire as well as many other close friends whose support over the last year was so important in his fight to give us all just one more day.
His parents, two infant sons, Rhett and Ryan and his father-in-law Floyd Simpson, precede him in death.
Visitation will be from 6:30 until 8:00 p.m., Thursday, at the Langston Street Chapel of Robertson-Drago Funeral Home. Burial will be in the Oak Lawn Cemetery with full military honors.  In lieu of flowers, donations may be made in Michael's memory to OMC Foundation and may be left at Robertson-Drago Funeral Home.
The family would like to thank all the doctors and nurses at Ozarks Medical Center, especially Dr. Alexandre Makarian, Dr.Priscilla Frase, Dr. Brett Malone, and locally Dr. Nate Swift, and Kelly Mills, Physician Assistant. Special thanks to Dr. Frank Eddleman and Sarah Moore, RN, Physical Therapists, Lee Adams, Paul Murray and Jess Loges, Speech Therapists Jeff Foes, Penny Fox Jones, Christy Kowiti, RN and Latise King,RN  and many other nursing staff and friends at NHC.