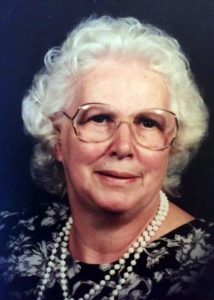 Funeral services for Murline Marie Peterson, 90, West Plains, Missouri, will be held at 10:00 a.m., Thursday, June 27, 2019 in the Rose Chapel at Robertson-Drago Funeral Home.
Mrs. Peterson passed away at 8:10 a.m., Sunday, June 23, 2019 at her home.
From her birth in the Crider/Pottersville area on June 7, 1929, to her death, she nurtured people around her with love and faith.  She was born to Edward Emmanuel and Vesta (Lawing) Callahan and was the oldest of 12 children.
As a young woman she moved to Nebraska where she met her husband Jack Peterson. They were married August 13, 1953, in West Plains. The couple had three children: Rick, Joyce and Jo Anne. The family lived in Omaha, Nebraska and returned to West Plains after Jack's untimely death in 1964.  Murline lived out the rest of her life in West Plains where she was an active member of the congregation at the Central Church of Christ.  She worked at International Shoe Factory until her retirement in 1989. Murline was an avid quilter and gardener. She loved making quilts and tending to her rose garden.
She has seven grandchildren and 19 great-grandchildren, who brought much joy and happiness.
Murline was preceded in death by her husband, parents, four brothers and two sisters.
She is survived by one sister, Loverne DeShazo and husband Mike; four brothers, Dewayne Callahan and wife, Shirley, Verbal Callahan and wife, Laureen, Leon Callahan and Leolen Callahan and wife, Lisa; children Rick, Joyce Sanders and husband, Terry, and Jo Anne Baltzell and husband, Darrel; grandchildren, Bryan Peterson, Sunny Redfield, Jennifer Graviett, Jaclyn Gimlin, Andrea Belcher, Grant Peterson and Cody Sanders; and great-grandchildren.
Visitation will be held from 6:00 until 8:00 p.m., Wednesday, at Robertson-Drago Funeral Home.  Burial will be in the Pottersville Cemetery.  Memorial contributions may be made to American Diabetes Association or Pottersville Cemetery and may be left at Robertson-Drago Funeral Home.