Naomia (Ruthie) Hutchings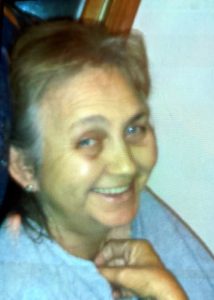 Graveside services for Naomia Ruth Hutchings, 66, West Plains, Missouri, will be held at 10:00 a.m., Tuesday, October 20, 2020 at Union Grove Cemetery, under the direction of Robertson-Drago Funeral Home.
Mrs. Hutchings passed away at 3:27 p.m., Thursday, October 15, 2020, at Mercy Hospital, Springfield, Missouri.
She was born May 10, 1954, at Wichita, Kansas, to William Joe Romans, Sr. and Marylene Wade Romans.  On September 22, 1985, she was married at Pottersville, Missouri, to Cal Hutchings.  Mrs. Hutchings was an LPN.  She enjoyed gardening, flowers and canning.  Ruthie loved listening to and playing bluegrass music with the Romans Family; she played the bass fiddle and was a great pianist. She was a member of HOBA and served as a board member of a number of years.  Her grandchildren and great-grandchildren brought her great joy; she loved being surrounded by her family and friends.  Mrs. Hutchings was a Christian and was always offering comfort or a helping hand to others.
She is survived by her husband, Cal Hutchings, of the family home; three children, Tara Wilbanks and husband, Kurt, West Plains; Kirk Hutchings and wife, Becky, West Plains and Lanette Estill and husband, Dan, State of Kansas; seven grandchildren, Jacob, Kyle, Shonti, Shelby, Nolan, Maguire and Sadie; two great-grandchildren, Carlee Belle and Bexlee Klaire; her parents, William Joe Romans, Sr. and Marylene Wade Romans, West Plains; three brothers, Delbert Romans, Randall Romans and wife, Teresa, all of West Plains and Bill Romans, Jr. and wife Chrissy, Republic, Missouri; three sisters, Mary Jo Croney and husband, Jerry, Trena Parker and husband, Lee and Teresa Jolliff and husband, Jim, all of West Plains; and numerous nieces and nephews.
Her grandparents, Clyde and Elsie Wade and Clinton and Lola Romans, father-in-law and mother-in-law, Alfred and Mina Grace Hutchings, one brother, William Clyde Romans, one nephew, Samuel Paul Romans and one niece, Elizabeth Croney, preceded her in death.
Memorial contributions may be made to the Family and may be left at or mailed to Robertson-Drago Funeral Home, 211 West Main, West Plains, MO  65775.