Narvella Lair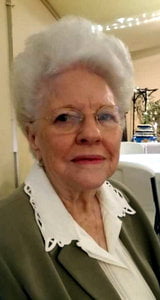 Private graveside services for Narvella Lair, 90, Caulfield, Missouri, were held at Amy Cemetery. 
Mrs. Lair passed away August 24, 2021, at her home. 
She was born April 17, 1931, at Mammoth Spring, Arkansas, to Dan Huff and Veda Abernathy Huff.  On Thanksgiving Day, November 27, 1947, she was married to Dwayne Lair in West Plains, Missouri. She started her career at the International Shoe Factory. She then continued at Baxter Laboratories, from which she retired after twenty-eight years. If you needed a grandmother, she would take you under her wing and love you as much as her own grandchildren. She was well known for her chocolate pie.
She is survived by three children, Cheryl Carter (Gary), Dwanella Snethern (Al), and Layne Lair (Sandra), all of Caulfield, Missouri; nine grandchildren, Ty Carter, Kody Carter (Angie), Krista Wiese, Keagan Snethern, Daniel Belt (Tonya), Nathan Lair (Katie), Aubrey Lair (Peggy), Blaine Lair (Samantha), and Melissa Looney; fifteen great-grandchildren; ten great-great-grandchildren; one sister, Danaleen Crosby (Gary), Lillian, Alabama; one sister-in-law, Linda Cotter (Dwane), Caulfield, Missouri; and eleven nieces and nephews.
Her husband, parents, father-in-law and mother-in-law, Oscar and Dorothy Lair, two sisters and their husbands, Wanda and Noah England, and Betty and Leroy Vaughn, one sister-in-law, Cora Macie Hickman Strongfellow, and one brother-in-law, Herbie Lair, preceded her in death.
Arrangements under the direction of Robertson-Drago Funeral Home.