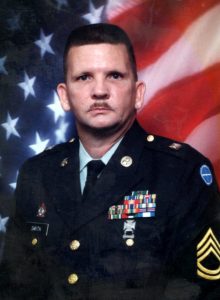 Funeral services for Nathan Patrick Smith, 56, Walnut Shade, Missouri, will be held at 2:00 p.m., Tuesday, August 14, 2018 in the Rose Chapel at Robertson-Drago Funeral Home.
Mr. Smith passed away at 11:21 a.m., Thursday, August 9, 2018 at Cox Medical Center South, Springfield, Missouri.
Nathan, known to many as Patrick, was born October 29, 1961, at Fort Lee, Virginia, to Bill and Heidi Smith.  He was the second child of six in his family and was known for taking care of his siblings.  At age seventeen, he married Helen Cobb; four children were born from this union.  The couple would have been married forty years this November.  Mr. Smith served in the United States Army National Guard through multiple deployments; he retired from the military after more than twenty-six years of service.  Mr. Smith worked as a Medical Lab Technician at Cox Medical Center, Branson, Missouri.  He enjoyed hunting, joking with friends and watching old westerns, especially those featuring John Wayne.
He leaves behind his wife, Helen; four children, Elizabeth VanHaaren and husband, Bob, Suzanne Bloomer and husband, Benjamin, Nathan Smith II and Angela Sullivan and husband, Jade; six grandchildren, Autumn, Abigail, Jocelynn, Samuel, Isaac and Tracy; his siblings, Ava, Bobby, Sharon, Karmen and Terry; and many nieces, nephews, aunts, uncles and cousins.
His parents and one grandson, Jeremiah preceded him in death.
Burial will be in the Ball Cemetery.  Memorial contributions may be made to the family and may be left at Robertson-Drago Funeral Home.