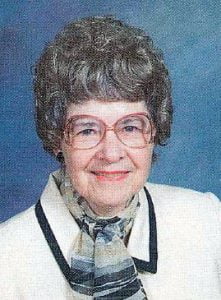 A memorial service for Norma R. Massie ,98, West Plains, Missouri, will be held at 12:00 Noon on Wednesday, July 12, 2017 at the First Christian Church, under the direction of Robertson-Drago Funeral Home.
Mrs. Massie passed away peacefully at 5:09 p.m., Wednesday, July 5, 2017, at West Vue Nursing Center.
She was born September 16, 1918, at Americus, Missouri, to Oscar Barton and Ruth Blackburn Barton.  Norma was one of four daughters, Beulah Massie and Thelma Lowry, who precede her in death and is survived by Kathleen Craig.  She was married on September 5, 1936, at Summersville, Missouri, to Clifford C. Massie.  This marriage was blessed with a daughter, Marjorie Ann, son-in-law, Tom Carr and grandson, Mark Thomas Carr.  Norma was a loving daughter, devoted wife, mother, sister, grandmother, mother-in-law and aunt to her nieces and nephews.  She enjoyed fishing, golfing, playing bridge and loved to cook.  Mrs. Massie was a member of First Christian Church for many years.
Memorial contributions may be made to First Christian Church or a charity of choice and may be left at Robertson-Drago Funeral Home.