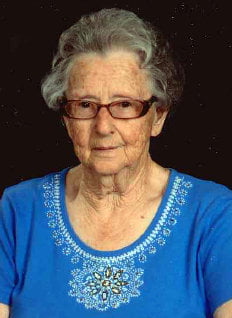 Funeral services for Norma Ruth McWilliams, 86, West Plains, Missouri, will be held at 9:00 a.m., Wednesday, March 11, 2015, at First United Methodist Church, under the direction of Robertson-Drago Funeral Home
Mrs. McWilliams died at 6:38 p.m., Saturday, March 7, 2015, at Ozarks Medical Center.
She was born June 16, 1928, in Clark County, Missouri, to Virgil Courtney and Anna Ruth Morrison Courtney. On June 29, 1947, she was married at Kahoka, Missouri, to Donald Ferris McWilliams, who preceded her in death on December 11, 2010. She attended Teacher's College at Kirksville, Missouri and received her LPN license in the late 1960's. Later in life she joined the Peace Corps, serving in the Philippines with her husband, where they formed lifelong friendships with other Peace Corps members. She was also a 4-H leader and a Sunday school teacher and superintendent when her children were growing up. Mrs. McWilliams was a member of First United Methodist Church for over forty years.
She is survived by five children, Donna Taylor, husband, Terence, Nashville, Tennessee, Scott McWilliams, wife, Judy, West Plains, Missouri, Patricia Lamb, husband, Kurt, South Korea, Nancy Amyx, husband, Kim, Caulfield, Missouri and Mary Lou Klingensmith, husband, James, St. Louis, Missouri; fourteen grandchildren, Robert "Tad" Taylor, wife, Melinni, Jennifer Ruth Raisanen, husband, Peter, Jeremiah McWilliams, wife, Gwen, Levi McWilliams, wife, Anna, Amy Chickles, husband, Justin, Luke Andermann, wife, Stephanie, Matt Amyx, Tof McWilliams, wife, Beth, Lisa Barslow, husband, Judd, Samantha Cooper, husband, Darren, Eric Amyx, Jason Lamb, wife, Vanessa, Heather Lloyd, husband, Chris and Matthew Klingensmith; twenty-one great-grandchildren, Chase, Chanel, Ainsley, Andrew, Tate, Hayes, Sloane, August, Inara, Elliott, Brighton, Braydon, Nicholas, Anna, Tetagan, Aidan, Miles, Shelby, Brooks, Jackson and Sarah; one brother-in-law, Richard McWilliams; two sisters-in-law, Marilyn Otte and Celia McWilliams; and several beloved nieces and nephews.
Her parents, husband, one brother, Leore and one sister, Juanita, precede her in death.
Visitation will be held from 5:30 until 7:00 p.m., Tuesday at Robertson-Drago Funeral Home.  Burial will be in the Missouri Veterans Cemetery, Springfield, Missouri. Memorial contributions may be made to First United Methodist Church, and may be left at Robertson-Drago Funeral Home.