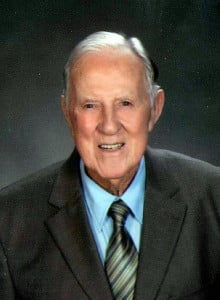 Funeral services for Olan George Walters, 93, West Plains, Missouri, will be held at 2:00 p.m., Sunday, November 22, 2015 at First Baptist Church, under the direction of Robertson-Drago Funeral Home.
Mr. Walters passed away at 8:25 a.m., Wednesday, November 18, 2015 at his home.
He was born October 5, 1922, at Pioneer, Louisiana, to Spurgeon Aaron Walters and Laura Mae McAlpin Walters.  Mr. Walters was a veteran, having served with the United States Army.  He attended college at Northeast Louisiana State University in Monroe, Louisiana and East Texas State University in Commerce, Texas.  In his early years he was a school teacher and taught Math in Transylvania, Louisiana.  On February 5, 1948, he was married at Transylvania, Louisiana, to Ruby Mae Dukes, who preceded him in death on February 11, 1986.  On March 20, 1987, he was married at Thayer, Missouri, to Laura "Carolyn" Grisham.  Doc loved spending time with his family.  He enjoyed working and farming.  Mr. Walters was saved at the early age of thirteen and spent the remainder of his life serving the Lord in many different ways and in many churches, including Milbourn Baptist Church, Alshita, Louisiana, Immanuel Baptist Church, Pomona, Missouri, First Baptist Church, Koshkonong, Missouri and First Baptist Church, West Plains, Missouri.  He spent many years serving as a Deacon and Sunday School teacher.  He was a kind, hardworking and good hearted man who will be missed by all that knew him.
He is survived by his wife, Carolyn Walters; ten children, George Walters, wife, Jimmie, Carolyn Honeycutt, husband, Steve, David Walters, wife Nita, Cliff Walters, wife, Victoria, Steve Ford, Terry Ford, wife, Sandra, David Ford, Tim Ford, wife, Lareciea, Vicky Dancer, husband, John and Cheri Grisham, husband Rick; many grandchildren, numerous great-grandchildren and several great-great-grandchildren; two sisters, Maxine Sanders, husband, B.J. and Selma Blackwood; and several nieces and nephews.
His parents, first wife and three brothers, David Walters, Ollie Walters and Lonnie Alton Walters, precede him in death.
Mr. Walters will lie in state from 5:00 until 9:00 p.m., Saturday, at Robertson-Drago Funeral Home. Visitation will be held at 1:00 p.m., Sunday, at First Baptist Church.  Burial will be in the Howell Memorial Park Cemetery.  Memorial contributions may be made to St. Jude's Children's Research Hospital and may be left at Robertson-Drago Funeral Home.