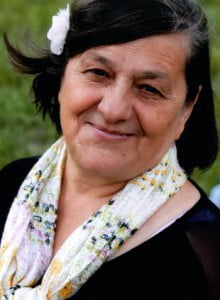 Funeral services for Olga Slavik, 66, Dora, Missouri, will be held at 1:00 p.m., Sunday, December 20, 2015 at the Langston Street Chapel of Robertson-Drago Funeral Home.
She fell asleep in Jesus at 6:00 PM, December 16, 2015 at her home surrounded by her family. She was born June 11, 1949 in Ijesti, Ukraine to Ilie and Galeena Lukyan. She married Vasiliy Slavik on April 28, 1971 and he survives.
Also surviving are her sisters Lucreta, Adela, and Viorica; her son Radu Slavik of Dora, Missouri, four daughters, Minodora Perchik of Ringgold, Georgia; Martha Moritz of Mansfield, Ohio; Mariya Marton of Springboro, Ohio; and Yelena Montalvo of Altamonte Springs, Florida; nine granddaughters, and four grandsons.
Olga's two sisters, Anna and Aurora, and her brother Trayan preceded her in death.
Olga with her family moved to Chowchilla, California from Ukraine, December 1994. In 1996, the family moved to Lawrenceville, Georgia where she worked at Chik-fil-a and as a custodian at the Gwinnett County School system. When Olga and her husband retired in 2007, they moved to Dora, Missouri.
Olga loved spending time with her family, especially her grandchildren. She had a wonderful sense of humor, loved to travel, to grow fruits and vegetables in her garden in order to share the delicious harvest with others either as fresh produce or in the form of sweet jam. Olga's heart was compassionate towards the needs of the less fortunate. She would often send care packages to the suffering and impoverished in her homeland of Ukraine. She spent her life promoting peace, helping, serving, feeding, and caring for others. Olga truly lived as the hands and feet of Jesus, blessing everyone who had the privilege to know her.
"Blessed are those who die in the Lord from now on. Yes, says the Spirit, they are blessed indeed, for they will rest from their hard work; for their good deeds follow them!" Revelation 14:13.
Burial will be in the Howell Memorial Park Cemetery.  Memorial contributions may be made to the Next Step Seventh Day Adventist Church and may be left at Robertson-Drago Funeral Home.