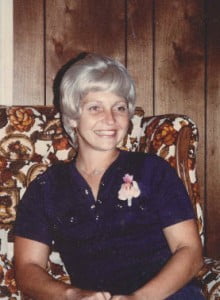 Funeral services for Olivia Fern Hollingshad, 68, Dora, Missouri, will be held at 2:00 p.m., Saturday, July 25, 2015, in the Rose Chapel at Robertson-Drago Funeral Home.
Fern passed peacefully in her sleep on July 17, 2015, while vacationing in Alaska with her husband of forty-nine years, James R. Hollingshad.
Born in Mountain Grove, Missouri on April 24, 1947, to Alta June and George Walter Dobbs.  She is survived by her loving husband James; her son James W. Hollingshad; her daughter Dora Michele Krause, son-in-law Max Krause and granddaughter Mia Fern Krause; her foster son Donald Wayne Chamberlin; her brother Curtis Doyle Kincheloe and sister-in-law Patty Kincheloe; and her sister Vonnie Fouts and brother-in-law Johnnie Fouts, as well as countless nieces, nephews and other loved ones.  She was preceded in death by her parents, her sisters Phyllis Wheeler and Eunice Murline Roark and her brother Edward Dale Kincheloe.
Surpassed by only her love of God the Father, family was the most important thing to Fern.   After graduating from Houston High School, she followed the family she loved around the world on countless adventures, living in South Korea, West Germany, and Savannah, Georgia before eventually retiring in North Pole, Alaska, where they have spent the last twenty-five years.
Since retiring, Fern and Jim have split their time between a family farm in Dora, Missouri and traveling the nation to visit family and friends.
Visitation will be held from 6:00 until 8:00 p.m. Friday at Robertson-Drago Funeral Home.  Burial will be in the Sweeton Pond Cemetery.