Oma Lee Duffell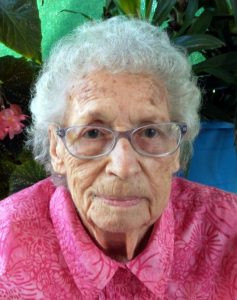 Funeral services for Oma Lee Duffell will be held at 2:00 p.m. at Amy Baptist Church, Saturday, March 18, 2023. Burial will be in Amy Cemetery, under the direction of Robertson-Drago Funeral Home
Mrs. Duffell passed from this life on March 13, 2023, at her home.
She was born near Ravenden Springs, Arkansas, September 6, 1923, to Edmund Amos Claude and Rosie Clemons Claude, who died six months later. She was raised by her maternal grandparents, Henry and Feener Carroll Clemons, in the Hocomo/South Fork area, where she enjoyed the companionship of her many cousins. As an adult, she reunited with her father, and enjoyed many years of having him in her life.  In 1946, she was married to Chester Duffell, who preceded her in death in August, 1963. She was forty years old with two teenage daughters.  Oma Lee was a woman with a strong will and many skills that benefited her family. She was a good cook, an excellent seamstress, and usually had a milk cow or dairy goats. A highlight of her goat raising days was when her favorite doe gave birth to four babies and had enough milk for all! She enjoyed gardening, canning, bird watching, and Major League Baseball on TV.  She loved dogs, and especially her last canine companion, Wally, who was literally by her side daily and on the foot of her bed every night. He preceded her in death by just three months, at the age of thirteen years.  In her late middle age, Oma worked outside the home at Baxter Lab and Riverways Home Health. At age sixty-eight, she was recognized as a semi-finalist in the Missouri State Older Worker of the Year contest. She thoroughly enjoyed the camaraderie of coworkers at both jobs, and cheerfully recalled stories about them until the end of her life.
Oma is survived by two daughters, Judy Duffell of Hocomo, and Jo Leta of Brandsville; a niece and nephew, Bonnie Roberson Smith and Joseph Ray Roberson, both of Florida; and many great nieces and nephews and distant cousins. 
She is preceded in death by her husband, her parents, and two sisters, Daisy Fare and Pearl Leninger.  Oma Lee is the last of Henry and Feenor Clemons's nineteen grandchildren, having been preceded in death by her last male cousin, Lloyd Clemons, by seventeen days.
Contributions may be made to the family, or to Missouri Department of Conservation, and may be left or mailed to Robertson Drago Funeral Home,  211 West Main Street, West Plains Missouri, 65775.