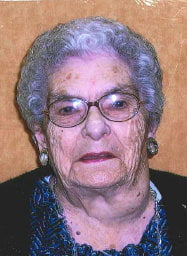 Funeral services for Ora Collins, 96, Willow Springs, Missouri, will be held at 3:00 p.m., Friday, April 3, 2015, in the Rose Chapel at Robertson-Drago Funeral Home.
Mrs. Collins died at 9:10 a.m., Tuesday, March 31, 2015, at Willow Care Nursing Home.
She was born December 23, 1918 in Douglas County, Missouri, to Charles Cunningham and Cora Gilbert Cunningham. Ora was married to Harley Haddock on June 16, 1937 and to this union four children were born, Marjorie, Paul, Wilma and Charles. After Harley's death in 1975 she was married to Herman Collins in 1977. While raising her family, she was employed by Conway Winter Shoe Factory for over twenty-five years. She loved flowers and to garden. Cooking meals for her family was one of her joys.
She is survived by three children, Marge Whited, husband, Jack, Wilma May, husband, Orb and Charles Haddock, wife, Donna; one step-daughter, Deana Corn; eight grandchildren; fourteen great-grandchildren; eleven great-great-grandchildren; sister-in-law, Lucille Cunningham; and numerous nieces and nephews.
Her parents, husbands, one son, Paul Haddock, one great-great-grandson, Cooper Bittick, five sisters and two brothers, precede her in death.
Visitation will be held prior to the service from 2:00 until 3:00 p.m., Friday at Robertson-Drago Funeral Home. Burial will be at the Howell Memorial Park Cemetery. Memorial contributions may be made to Alzheimer's Association, and may be left at Robertson-Drago Funeral Home.