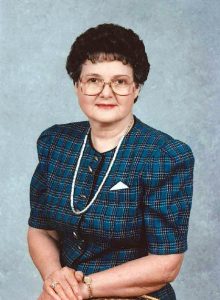 Funeral services for Orella Phillips, 90, Broken Arrow, Oklahoma, will be held at 10:00 a.m., Thursday, December 22, 2016 in the Rose Chapel at Robertson-Drago Funeral Home.
Mrs. Phillips passed away Saturday, December 17, 2016 at Broken Arrow Nursing Home.
She was born June 8, 1926, at Elijah, Missouri, to Claude E. Colvin and Grace E. Hopkins Colvin.  Orella received her education at Valley Star School, Ozark County, Missouri, Bakersfield High School, Bakersfield, Missouri, Maplewood High School, St. Louis County, Waxahachie High School, Waxahachie, Texas and one year of Bible School at Waxahachie, Texas, an Assemblies of God School known as S.B.I.  She was married in 1942 at St. Louis, Missouri, to Ray Highfill, an Assemblies of God Minister and remained married to him until his death in 1969, at Irving, Texas.  In 1988 she married James Phillips, who retired from Texaco, of Tulsa, Oklahoma, who preceded her in death.
She is survived by her son, Stephen Roe Highfill and wife, Marti, West Fork, Arkansas; her daughter, Jeanette Highfill Staub and husband, Roger, West Fork, Arkansas; two grandsons, Stephen Staub and wife, Christina, Tulsa, Oklahoma and Michael Staub, Tulsa Oklahoma; three granddaughters, Rachel Ann Tafoya and husband, Vince, Tulsa, Oklahoma, Elizabeth Martinez and husband, Rick, San Antonio, Texas and Victoria Grace Highfill, Nashville, Tennessee; 7 great-grandchildren; one niece, Debra Reeves Wallace and husband, Gerald; and one nephew, Stanley Reeves.
Her parents, husbands and one sister, Maxine Reeves, precede her in death.
Burial will be in the Oak Lawn Cemetery.