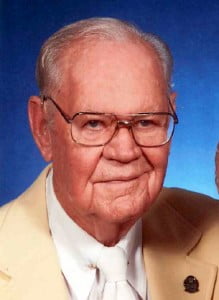 Funeral services for Otes Elvin Englen, 93, Myrtle, Missouri, will be held at 10:00 a.m., Friday, March 18, 2016 in the Rose Chapel at Robertson-Drago Funeral Home.
Mr. Englen passed away at 12:07 p.m., Friday, March 11, 2016 at NHC Health Care.
He was born March 25, 1922, at Koshkonong, Missouri, to Benjamin Frank Englen and Minnie Alma Juern Englen.  On May 6, 1944, he was married at Denver, Colorado, to Sarah Ann "Maxine" Hutson, who preceded him in death on February 25, 1998.  On April 29, 2000, he was married at West Plains, Missouri, to Viola Lucille Wright Glassford, who preceded him in death on May 7, 2015.  Mr. Englen was a veteran, having served with the United States Navy during World War II.  Before his retirement, he was an aerospace mechanical research engineer at Lockheed-Martin.  After his retirement he moved to his farm east of Thayer.  Mr. Englen was a 32nd degree Mason and a lifetime member of the Veterans of Foreign Wars.  He was of the Baptist faith and was baptized in 1950 at Bible Baptist Church, Denver, Colorado.
He is survived by one son, David Englen and wife, Carol, Westcliffe, Colorado; four grandchildren, David Englen, Jr., and wife, Michelle, Douglas Englen and wife, Christina, Andrew Englen and wife, Melonie and Angella Simon, and husband, Phillip; nine great-grandchildren; one great-great-grandson expected to arrive in July, 2016; two step-children, Guy Glassford and wife, Anna and Diane Glassford Adams and husband, Marshall; four step-grandchildren, Russell Glassford and wife, Nelly, Janine Lindsey and husband, Scott, Monique Urbin and  husband, Cale and Nichole Ornsby and husband, Liam; fifteen step-great-grandchildren; one brother, Delmore Englen and wife, Betty, Basehor, Kansas; one sister, Mary Dina Cockrell and husband, John, State of Mississippi; and several nieces and nephews.
His parents, wives, one son, Philip Englen, one daughter, Linda Kay Englen, one sister and four brothers, precede him in death.
Visitation will be from 6:00 until 8:00 p.m., Thursday, at Robertson-Drago Funeral Home. Burial will be in the Mint Springs Cemetery.  Memorial contributions may be made to the Mint Springs Cemetery and may be left at Robertson-Drago Funeral Home.