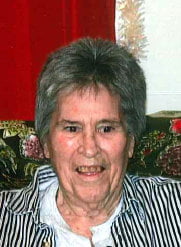 Patricia Ann Cesar, 86, West Plains, Missouri, passed away at 5:15 a.m., Monday, August 27, 2018, at NHC Healthcare, West Plains, Missouri.
She was born March 28, 1932, at Topeka, Kansas, to Herschell Oden Halley and Agnes Mary Lonergan Halley.  On April 9, 1949, she was married at Raytown, Missouri, to Harry Willis Cesar, who preceded her in death on October 24, 2014.  Before her retirement, Pat was a florist and a bookkeeper.  Mrs. Cesar was of the Catholic faith.
She is survived by two children, Harry Cesar and wife, Linda, West Plains, Missouri, and David Cesar and wife, Lori, Rockport, Texas; four grandchildren; four great-grandchildren; and two nieces.
Her parents, husband and one sister preceded her in death.
Arrangements under the direction of Robertson-Drago Funeral Home.