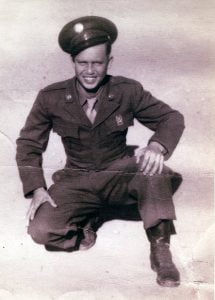 A celebration of life service for Paul Rice, 94, West Plains, Missouri, will be held at 7:00 p.m., Friday, August 23, 2019, at the Langston Street Chapel of Robertson-Drago Funeral Home.
Mr. Rice passed away at 1:15 a.m., Sunday, August 11, 2019 at NHC Healthcare.
He was born October 20, 1924, at Asheville, North Carolina, to Willie Rice and Ella Lowe Rice.  Paul attended eight years of school at Moody, Missouri.  On August 1, 1953, he was married at Kansas City, Missouri, to Dorothy E. Hake; after the wedding the couple was escorted by friends to Independence, Missouri where Paul pushed his bride around the square.  They were married for sixty-six years.   Mr. Rice was a veteran, having served with the United States Army.  He was a government certified welder and made many metal entrances to cemeteries in the area that will stand as reminders of his work.  He was also a saddle maker and a silversmith.  Anything a person wanted made of metal, leather or silver, he made it.  Paul worked for many years at Southwest Truck Body, now known as DRS.  He loved the outdoors and enjoyed his horses, dogs and hunting very much.   He especially enjoyed his many friends and never tired of visiting with t hem.  George and Jim Willard and Paul were special buddies as they grew up together and enjoyed many good times of lots of hard work.  He will be missed very much.
He is survived by his wife, Dorothy Rice, of the family home; three children, Debbie Dye and husband, Allen, Donna Dunnihoo and Dale Rice, all of West Plains; son-in-law, Phil Wilson, Mountain View, Missouri; daughter-in-law, Judy Rice, West Plains; six grandchildren; and seven great-grandchildren.
His parents, daughter, Donita Wilson, son, Dennis Rice and son-in-law, Dave Dunnihoo, preceded him in death.
Visitation will be held at 6:00 p.m., Friday, August 23, 2019, at the Langston Street Chapel of Robertson-Drago Funeral Home.  Memorial contributions may be made to St. Jude's Children's Research Hospital and may be left at Robertson-Drago Funeral Home.