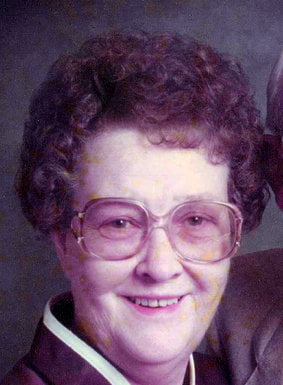 Funeral services for Pauline Wilbanks, 93, West Plains, Missouri, will be held at 11:00 a.m., Friday, July 11, 2014, in the Rose Chapel at Robertson-Drago Funeral Home.
Mrs. Wilbanks died at 12:30 a.m., Sunday, July 6, 2014, at West Vue Nursing Center.
She was born November 18, 1920, at Willow Springs, Missouri, to Monroe Wood and Mary Viola Kiser Wood. On May 16, 1940, she was married at West Plains, Missouri, to George A. Wilbanks, who preceded her in death on March 23, 1963. Mrs. Wilbanks worked as a sales clerk at a department store in Mountain View, Missouri and later worked at Missouri Home Care. She was a life time member of the VFW Auxiliary. Mrs. Wilbanks enjoyed quilting; having recently placed in a quilt show at West Vue Nursing Center. She loved to travel and was a St. Louis Cardinal fan. She also loved animals and was a supporter of the Humane Society. There were five generations in her family; her family was her life and she especially enjoyed time spent with grandchildren, great-grandchildren and great-great-grandchildren. Mrs. Wilbanks was a member of the Pomona Christian Church.
She is survived by two children, Connie Perkins, husband, Harry D., West Plains, West Plains, Missouri and Margaret "Marge" Bond, Palmyra, Missouri; four grandchildren, Kent Perkins, West Plains, Missouri, Kelly Kranawetter, Jackson, Missouri, Paul Eric Bond, wife, Carrie, Palmyra, Missouri and Michael Bond, wife, Jody, Bakersfield, Missouri; nine great-grandchildren; three great-great-grandchildren; one sister, Agnes Brixey, West Plains, Missouri, special friend, Carol Gore; and several nieces and nephews, including three special nieces, Anita, Pat and Barbara.
Her parents, husband, son-in-law, Paul Bond, three brothers and four sisters, precede her in death.
Visitation will be held from 6:00 until 8:00 p.m., Thursday at Robertson-Drago Funeral Home. Burial will be in the Howell Memorial Park Cemetery. Memorial contributions may be made to Oak Grove Cemetery, St. Jude's Children's Research Hospital or West Plains Regional Animal Shelter, and may be left at Robertson-Drago Funeral Home.