Ellen Irene Cherry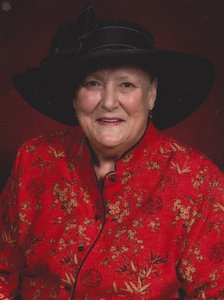 Funeral services for Ellen Irene Cherry, 86, West Plains, Missouri, will be held at 11:00 a.m., Wednesday, April 28, 2021 at First Baptist Church, under the direction of Robertson-Drago Funeral Home. 
Mrs. Cherry passed away at 11:14 p.m., Monday, April 26, 2021, at Pleasant Valley Manor. She departed this life to be with Jesus and join her husband, Dennis in Heaven.
She was born August 16, 1934, at Koshkonong, Missouri, to Floyd and Hazel Helmer Bench.  Irene grew up in Lanton, Missouri along with her siblings, Jean Bench Hogan, Bob Bench, Floyd Bench and Clara Zell Bench Cherry.  She received her education at Myatt Township School and West Plains High School.  On November 7, 1950, she was married at Salem, Arkansas, to Dennis Duane Cherry, who preceded her in death on March 14, 2013.  As the wife of a Naval Master Chief, Irene lived in California, Virginia, South Carolina, Rhode Island, the Philippine Islands, Florida, Illinois, Cuba and Tennessee.  She thoroughly enjoyed every place they were stationed and always felt that if she and Dennis and her daughters were together, anyplace was home.  Irene worked outside the home once her daughters were in school at a variety of jobs.  One of her favorites was the tourism office at the Naval base in the Philippine Islands.  She enjoyed getting to know the Filipino people and arranging trips that allowed the servicemen and families to see the beauty there.  Irene loved the Lord and her husband, Dennis.  She served in churches alongside Dennis in every place he was stationed in any capacity where she was needed, but especially as a Sunday School teacher and mentor to younger women.   It was at First Baptist Church, West Plains, where she touched so many lives – mentoring younger women and babysitting for them when children were sick and along with Dennis organizing and running the first Marriage Retreat.  As leaders of a large couples' class, they met the needs of many people and were instrumental in leading many people to faith in Christ.  She was a blessing to many people and an example of true Christianity. 
She is survived by her daughters and their husbands, Cynthia and Jack Doss, West Plains, Missouri and Pamela and Albert Kinney, Severna Park, Maryland; her grandchildren, Rebecca Doss and partner, Teresa Hornsby, Ormond, Florida, Caleb Kinney and wife, Amber, Frederick, Maryland, Sarah Doss, West Plains, Grace Kinney Lerch and husband, Caleb, Calgary, Canada, Creghton Kinney, Emma Kinney and Mia Kinney of Severna Park, Maryland; her great-grandchildren, John and Evie Niesen, Celia Doss and Jacob Mackey all of West Plains, Hazel Mae Kinney, Frederick, Maryland; two brothers, Bob Bench and Floyd Bench and wife, Vadna; one sister, Clara Zell Cherry; one sister-in-law, Susie Whitsell; along with many nieces and nephews. 
Her parents, husband, one sister, Jean Hogan, one nephew, Steven Bench and three brothers-in-law, Vance Hogan, James Cherry and Phil Whitsell, preceded her in death. 
Visitation will be held prior to the service from 10:00 until 11:00 a.m., Wednesday, at First Baptist Church.  Burial will be in the Oak Lawn Cemetery.  Memorial contributions may be made to St. Jude's Children's Research Hospital or First Baptist Church West Plains Benevolence Fund and may be left at or mailed to Robertson-Drago Funeral Home, 211 West Main, West Plains, MO  65775.
There can never be enough expressions of gratitude for the compassionate care Irene received at Pleasant Valley Manor during her time as a resident there.  Her family is extremely grateful for the way all the employees treated her with respect and love.  At the end of her life, Three Rivers Hospice provided comfort and support for her during her last days.