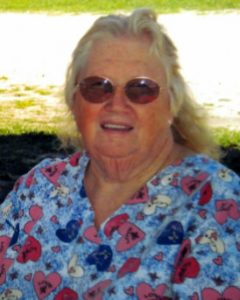 Rebecca "Becky" Chamberlain, 76, Bakersfield, Missouri, passed on to be with her other loved ones at 10:15 a.m., Friday, March 3, 2017, at her home surrounded by loved ones.
She was born March 27, 1940, at Marshall, North Carolina, to Manely Davis and Linda Chandler. She spent 50 years of marriage to William Claude "Bill" Chamberlain before his passing January 3, 2012. Before her retirement she worked as a housekeeper at Cloud 9 Ranch and West Vue Nursing Home. She also worked as a Teachers Aide and a One-on-One at the Preschool at Lutie School.
Becky loved all her children, even those not born to her. She enjoyed her eleven grandchildren, thirteen great-grandchildren and spending time with many special friends of the family. She was called mom and granny by many. She enjoyed reading, working word puzzles and cherished time spent with family.
Becky's passing to eternal life leaves a void in many hearts, yet we rejoice in knowing her health is restored and that she is reunited with so many loved ones.
Becky had come to know Christ at an early age and attended Christ Community Church (C3) in Mtn. Home, Arkansas as long as her health had allowed her to.
She is survived by her children, William Richard Chamberlain and wife Deanna, Brenda Sue Johnston and friend Gary Johnston, and Claudine Rosenkrans, of Bakersfield Missouri, eleven grandchildren, thirteen great-grandchildren, and several nieces and nephews.
Her husband, parents, one granddaughter, one great-granddaughter and four brothers preceded her in death. They are rejoicing in their reunion.
Becky will be laid to rest in a private ceremony at Mt. Pleasant Cemetery alongside her husband and granddaughter. Arrangements under the direction of Robertson-Drago Funeral Home.