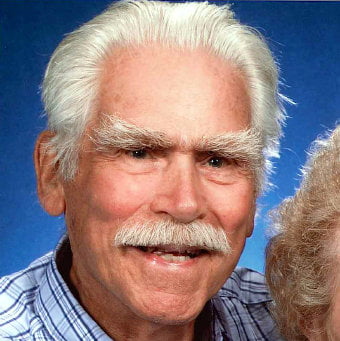 Funeral services for Rex G. Carlson, 89, West Plains, Missouri will be held at 2:00 p.m., Monday, February 9, 2015, in the Rose Chapel at Robertson-Drago Funeral Home.
Mr. Carlson died peacefully at his home on February 6, 2015, with his family at his side.
He was born June 11, 1925 at Perth Amboy, New Jersey, to Andrew G. Carlson and Phoebe Newport Carlson. At an early age he moved to Staten Island, where he attended public schools, graduating from New Dorp High School with the Class of 1943 as class Valedictorian and winner of both the Latin and Math Awards. Immediately following high school, Rex enlisted in the United States Navy and served his country for four years, attaining the rank of First Class Petty Officer in the field of Aviation Electronics. On October 10, 1945, he married his best friend and high school sweetheart, Margaret Mary O'Donnell, who preceded him in death on October 16, 2013. Rex was a loving and devoted husband for sixty-eight years. Rex had a long and successful career in electric engineering with Bell Telephone Laboratories, a job that took him from New York City to Holmdel, New Jersey, to Naperville, Illinois, to Denver, Colorado. He retired in 1983 and shortly thereafter moved to West Plains, Missouri to be near family.
He is survived by three children, Bill Carlson, wife, Michelle, West Plains, Missouri, Audrey Kaufman, husband, Peter, Marquette, Michigan and John Carlson, Dallas, Georgia; seven grandchildren, Bryan Carlson, Sean Carlson, Megan Carlson Brown, Karin Shady, Carl Anderson, Jonathan Carlson and Christopher Carlson; eight great-grandchildren; one sister, Judy Adams, husband, Boyd, Staten Island, New York; and one brother, Roy Carlson, wife, Helen, West Palm Beach, Florida; and several nieces and nephews.
His parents, wife and one sister, Audrey, precede him in death.
The family would like to thank Rex's caregivers and Riverways Support Service and Hospice for their exceptional and loving care.
Visitation will be held from 1:00 until 2:00 p.m., Monday at Robertson-Drago Funeral Home. Burial will be in the Howell Memorial Park Cemetery. Memorial contributions may be made to the American Heart Association or Wounded Warrior Project, and may be left at Robertson-Drago Funeral Home.