Richard Benedict Dold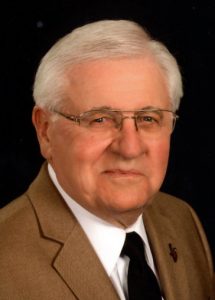 A Celebration of Life, with Military Honors, for Richard Benedict Dold, 85, West Plains, Missouri, will be held at 11:00 a.m., Saturday, April 2, 2022, at First United Methodist Church, under the direction of Robertson-Drago Funeral Home.  
Richie was born July 22, 1936, to Alois and Veronica (Froni) Mondlock Dold, in the small town of St. Martin, Minnesota.  His faith became sight on March 22, 2022, when he at last saw the face of his redeemer.  He passed away at home after a year-long battle with cancer.
High school years were spent at St. John's Prep Boarding School in Collegeville, Minnesota, where Dick, aka "Buck", was a four-year letterman on the championship football team.  He was always proud of being a Johnnie.  Joining the Air Force in 1956 as an Airman Basic, he achieved the rank of Master Sergeant before earning his college degree in History and becoming a new 2nd Lieutenant in 1970.  He spent his career in California, Guam, Arizona, Iceland, New Mexico, France, Alaska, and Colorado.  Following his retirement from the Air Force as Captain in 1980, he became a civilian employee of the Air Force Reserve Center, retiring a second time in 1998.  The day after his retirement, he moved to West Plains, Missouri.  Season ticket holders for the United States Air Force Academy football team for twenty years and Sponsor Parents for over a dozen cadets were two of his favorite pursuits.  After graduation, some cadets still considered the Dolds another set of parents.  A life-long bowler, Dick always wanted to bowl a 300 game, and he came within a hair's breadth of accomplishing his goal.  Dick was a true bibliophile and delighted in loaning books to his friends.  He enjoyed his new home in the Ozarks and served as Chairman of the West Plains Pride Committee for three years.  He was responsible for the "Welcome to West Plains" sign at Highway 63 and Preacher Roe Boulevard.  Dick loved his church and held several positions, including President of the Methodist Men.  His Sunday School class was special and he considered each member a personal friend.  The church membership and our family friends have been great support throughout his illness.  Special thanks to Ozarks Healthcare Hospice for their loving care.
Dick and Jan (Howard) Dold were married December 12, 1970, in Alamogordo, New Mexico.  They raised two children, Bridget Dold Miller of Aurora, Colorado, and Eric (Robyn) Dold of Battle Ground, Washington.  He adored his three granddaughters, Megan (Mike) Dold-Nowack, Alexis Miller, and Camryn Miller.  He would spend hours playing cards with "the girls".
Dick was preceded in death by his mother, Veronica, father, Alois, and brothers, Bert and Clem Dold.
In lieu of flowers, the family (including their precious Foxy, a ten-year-old rescue) asks that you make a donation to a shelter of your choice or to the First United Methodist Church.  Memorial contributions may be left at or mailed to Robertson-Drago Funeral Home, 211 West Main, West Plains, MO  65775.