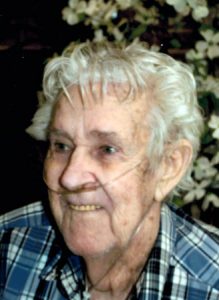 A memorial service for Richard Joe Lamb, 83, Bakersfield, Missouri, will be held at 10:00 a.m., Saturday, December 3, 2016 at Full Gospel Church, Bakersfield, Missouri.
Mr. Lamb passed away at 6:10 p.m., Thursday, November 24, 2016 at West Vue Nursing Center.
He was born February 27, 1933, to John Rue Lamb and Vesta Deffell Lamb in a log cabin on Cloud 9 Ranch, Caulfield, Missouri.  He had six siblings and four half-sisters.  Mr. Lamb was a Veteran of War; he began serving with the United States Army in 1951and was a mechanic in Korea.  He worked as a farmer and mechanic.  On April 18, 1955, he was married at Pottersville, Missouri, to Barbara Sue Bowen, who preceded him in death on December 23, 2014.  Richard was an avid fisherman and hunter and loved to be outside.  He always had a joke to tell and made everyone he met laugh; Richard loved to tell stories of his life and sing songs.  Mr. Lamb would go out of his way to help anyone in need.  He was loved by many and will be missed by all.
He is survived by he and Barbara's five children, Ronnie Joe Lamb, David Rue Lamb, Rhondia Sue Lamb Woodall, Glen Raymond Lamb and Tammy Joline Lamb Robeen; eleven grandchildren, John Daniel Lamb, Shelly Bohannon Turner, James Rodgers, Ricky Rodgers, Randy Rodgers, Jordan Lamb, Ashley Chavarria, Sadie Robeen, Deedria Chavarria, Andrew Robeen and Gerald Robeen; nine great-grandchildren, Quinton, Brittany, Zackary, John Luke, Brenden, Hunter, Tyler, Emma Jo, and Anystin; one sister, Sharlotte Lamb Sexton; four half-sisters, Claudean Brown, Cathy Huckaby, Lucille Greer and Sharron Kay Huckaby and many sisters-in-law, brothers-in-law, nieces and nephews, that were dear to his heart.
His parents, wife, one grandson, Luke Bohannon, one great-grandson, Michael, one infant brother, three brothers, Francis Rue Lamb, Roy Delmore Lamb and Herbert Ray Lamb and two sisters, Effie Lorene Lamb McKinney and Vera Poinsett-Hill, precede him in death.
Interment will be in the Bakersfield Cemetery.  Arrangements under the direction of Robertson-Drago Funeral Home.