Ricky Joe Haynes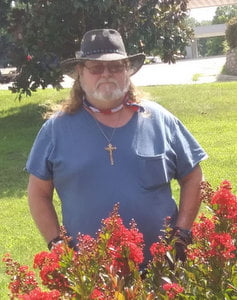 Ricky Joe Haynes, 60, West Plains, Missouri, passed away Tuesday, May 2, 2023, at his home.  
He was born August 1, 1962, at Cabool, Missouri, to Hurshel Haynes and Geraldine Wilkerson Haynes.  On November 20, 2005, he was married at Walnut Ridge, Arkansas, to Pamela Rothe.  Bluegrass music was Ricky's passion; he played guitar, mandolin and banjo.  He enjoyed hunting and fishing.  Mr. Haynes loved talking and spending time with his grandkids.  He never met a stranger.
He is survived by his wife, Pam Haynes, of the family home; son, Shawn Haynes, Tammy and Shay, Paragould, Arkansas; step-children, Kara Marler and Zach, Westville, Oklahoma, Candi Sisco, Thayer, Missouri and Christopher Mathis, Paragould, Arkansas; his grandchildren, Liam, Rosalie, Decklan, Dakota, Aubrey and Scarlet; two brothers, Jerry Haynes and wife, Joy, Foley, Alabama and Bruce Haynes and wife, Kathy, Buffalo, Missouri; several nieces and nephews; and other family and friends that were like family. 
His parents, one daughter, Delena Clements, one grandson, Quinten Marler and six brothers, Kenny,  Mike, Roger, Danny, Steve and Randy Haynes, preceded him in death.  
Arrangements under the direction of Robertson-Drago Funeral Home.