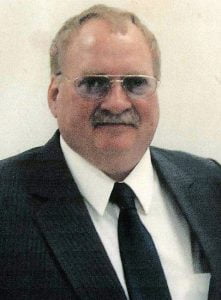 A celebration of life service for Robin Lee Van Dyke, 67, West Plains, Missouri, will be held at 1:00 p.m., Saturday, September 2, 2017 at the family home.
Mr. Van Dyke passed away at 3:55 p.m., Thursday, August 31, 2017 at Ozarks Medical Center.
He was born October 1, 1949, at Manhattan, Kansas, to Robert C. "Doc" Van Dyke and Dorris Robinson "Gram" Van Dyke.  He graduated from Pella High School, Pella, Iowa, with the Class of 1967 and received an associate's degree from Arkansas Tech, Russellville, Arkansas.  On March 1, 1989, he was married at Juliet, Illinois, to Jeanne Miller.  Rob enjoyed woodworking and golf and loved spending time with his grandkids.
He is survived by his wife, Jeanne Van Dyke, of the family home; four children, DeAnna Williams and husband, Charles, Dixie Sumners and husband, Tom, Jerry Trimble, and wife, Tammy and Asha Richardson and husband, Tim; many grandchildren; several great-grandchildren; one brother, Rex Van Dyke and wife, Leann; two sisters, Susie Logan and Donna Briggs; and several nieces and nephews.
His parents and one son, Joe Trimble, preceded him in death.