Robert Allen Anders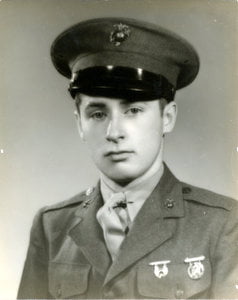 Visitation for Robert Allen Anders, 100, West Plains, Missouri, will be held from 6:00 – 8:00 p.m., Friday, February 12, 2021 in the Rose Chapel at Robertson-Drago Funeral Home.
Mr. Anders passed away at 11:15 a.m., Sunday, February 7, 2021, at his home.
Robert, known to nearly all who knew him by Bob, was born in 1920 in St. Joseph, Missouri.  His 24 year military career began when he enlisted in the United States Marine Corps on December 7, 1941.  The following January he went to Southern California for duty at a newly built Camp Pendleton.  He was soon shipped to the South Pacific as a member of Charlie Battery.  That was the 1st Battalion of the 12th Marines.  From there he was sent to New Zealand, Guadalcanal and Bougainville.  Due to an injury which became infected during the war he was one of the early users of a new drug just made available, penicillin.  He also overcame malaria in time for the invasion of Guam.  They were successful in taking that highly fortified island in time to begin training for the invasion of Iwo Jima.  As a forward observer and scout corporal, Bob was on Iwo Jima 41 days.  He said in an interview…"It was one long nightmare.  You don't remember a lot about it, except it was the same thing every day."  His career in the Marine Corps included Exchange Chief in the PX (Post Exchange), to being part of an honor platoon, to being an assistant warden in a prison before getting his own command.  During the Korean War he landed in Inchon and was all over the country for a couple of years.  He was subsequently sent to Henderson Hall, Marine Headquarters in Arlington, Virginia for 2 years before being transferred to Japan.  It was in Kobe where he first came to admire and respect the Japanese people, who had previously been our enemies.  Several tours of duty in Japan gained his promotion to Master Sergeant where he ran the NCO (noncommissioned officer) club.  In Japan he met his wife who was a clerk/typist for the Colonel.  It was on a return trip to Japan that he became reacquainted with Akemi (also known as "Kim").  He received the approval of her uncles according to Samurai warrior code, as her father had been killed in the war.  Their mothers met and became acquainted.  They were married in 1962.  After his retirement from the Marine Corps, Bob and Akemi settled near Brandsville where he was a gunsmith for many years.  He closed his shop after their farmhouse burned.  They finally moved to their present home in West Plains.  As his eyesight deteriorated he was no longer able to work on guns but his vast knowledge of firearms made him a popular presence at frequent gun shows.
He is survived by his wife, Akemi K. Anders; two daughters, Ruth Ann Graber, West Plains and Kay Etta Peachey, Tyler, Texas; one son, Robert A. Anders, Jr., Baker City, Oregon; six grandchildren; and a growing number of great-grandchildren.
Burial will be at a later date in the Missouri Veterans Cemetery, Springfield, Missouri.  Memorial contributions may be made to Marine Corp Association and may be left at or mailed to Robertson-Drago Funeral Home, 211 West Main, West Plains, MO  65775.