Marjorie Helen Kelly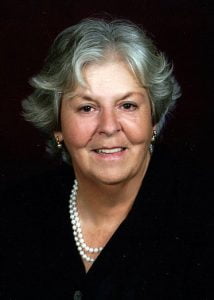 Marjorie Helen Kelly, 77, West Plains, Missouri, departed this life Saturday, March 28, 2020 at Ozark Medical Center.
She was born March 5, 1943 in Margaretville, New York to Albert and Winifred (Roberts) Wickham.  Marjorie was raised on a large dairy farm and attended Margaretville High school.  She had four siblings Gayle, Frances, George and Gary all preceding her in death. Marjorie united in marriage to Carl Dalton Kelly Sr., March 1966 and had three children Catherine Anne Kelly, Carl Dalton Kelly Jr., and Craig Dallas Kelly. 
 Marjorie was a quick witted, friendly and loving person who held deep affection for the military and all things supportive of America. Throughout her life she served as a Soldier in the Women's Army Corps (WACs), a senior administrative assistant in the Housing and Urban Development (HUD) department and a technical administrative analyst for the U.S. Army. She enjoyed animals (especially dogs), reading, games of chance (I.e. slots/bingo), participating in supportive initiatives for the Republican Party, spending time with friends/family, and late in her life painting/crafts.  Marjorie was the rock of her family and would always be there to guide and help those in times of need. She held firm in her faith/beliefs and did not back down if challenged in either.  She is remembered as a loving and loyal wife and an exceptional mother, sister, staunch patriot and friend to all. 


She is survived by her son Carl D. Kelly Jr. (Colonel USA retired), his wife Gretchen and their two daughters Logan and Tatum; her grandchildren Amanda Grayson her husband Gray and their sons Dalton and Corben; Amber Jones and her children Andrew, Kyler and Harlie; Stephen Rosas; Lauryn (Sutton) Kelly her fiancé John and their son Kastor; Jayda Graham and her husband Alex; Amethyst Rich and her husband Jacob. 

Marjorie is preceded in death by her husband Carl Sr., her daughter Cathy and her son Craig. 
The family will hold a private graveside service at Oak Lawn Cemetery. Due to the current social distancing restrictions, attendance is only for immediate family and designated loved ones. The family will not hold a gathering afterward but intends to conduct another memorial service sometime this Spring/Summer in order to provide full military honors and celebrate the reinternment of her husband Carl Sr., next to her. In lieu of flowers, the family would prefer any donations be made to the Special Operations Wounded Warrior Foundation in Marjorie's name.