Robert (Gene) King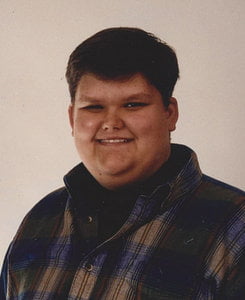 A visitation service for Robert (Gene) King, 46, Pomona, Missouri, will be held from 5:00 until 8:00 p.m., Friday, February 24, 2023, in the Rose Chapel at Robertson-Drago Funeral Home.    
Mr. King passed away at 9:45 a.m., Friday, February 17, 2023, at his home with his mother, Colleen and Uncle, Dana by his side.
He was born November 16, 1976, at Rockford, Illinois, to Doyle D. King and Colleen Dauenbaugh King Simmons.   Before becoming disabled with kidney and heart disease, Gene worked at Invensys for several years.  He loved his family and friends deeply and appreciated everything that was done for him.  Gene enjoyed RC cars, computers, playing cards and board games, planting flowers and watching wildlife.  Gene loved his best friends who were like brothers, Matthew Phenix, Matt Erickson, Brent Maddox, Sean Smith, David Steele, Cami, Joe, John and Aaron; the visits and phone calls meant a lot to Gene.  Thank you for being such great friends. 
He is survived by his mother, Colleen Simmons; one half-sister, Sylvia King;  several aunts, uncles and cousins; and a very special friend he called Auntie Linda. 
His father and step-father, Ulyess Simmons, preceded him in death.  
In lieu of flowers, please plant a flower in your yard or put up a bird feeder in Gene's memory.  The family would like to thank the doctors and staff at the DCI and Fresenius Dialysis Clinic for the extra special care and Dr. Jones for saving Gene's eyesight so that he was able to still enjoy life as it was for him during the last year and a half.  Gene had a special gift of loving each person for who they were and was a very down to earth person; he will be greatly missed.  Rest in peace my darling loving son.