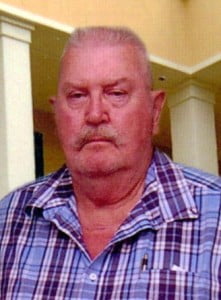 Funeral services for Robert Lawrence Jones, 77, West Plains, Missouri, will be held at 2:00 p.m., Friday, April 29, 2016 in the Rose Chapel at Robertson-Drago Funeral Home.
Mr. Jones passed away at 8:00 a.m., Tuesday, April 26, 2016 at his home.
He was born August 7, 1938, at Pisgah, Iowa, to Raphael Oren Jones and Ethel Mae Hicks Jones.  On December 5, 1971, he was married in the State of California, to Martha Baughman.  Mr. Jones was a retired veteran, having served with the United States Army, United States Air Force, Army National Guard, United States Navy and was a Seabee.  He was a life time member and had served as Commander of the Veterans of Foreign Wars, American Legion Post and Disabled American Veterans.  Being a member of the American Legion Post he enjoyed cooking many breakfasts and working at the Heart of the Ozarks Fair for many years.  He loved reading Louis L'amour books; having read several books many times and had a large collection.  Mr. Jones was a member of the Brandsville Church of God.
He is survived by his wife, Martha Jones; three children, Max Jones and wife, Vicki, James Ginn and wife, Julie and Gloyd Ginn; seven grandchildren, Alan Jones and wife, Kim, Alesha Jones, Kyle Ginn and wife, Crystal, Oren Ginn and wife, Breanna, Alisha Mattingly and husband, Ian, Jessica Woodard and husband, Brandon and Anita Kimbell; eleven great-grandchildren and one on the way; one brother, David Jones; two sisters, Anna McDonald and husband, Michael and Mary Wenzler; and several nieces and nephews.
His parents, one son, Kenneth Ginn and one brother, Richard Jones, precede him in death.
Mr. Jones will lie in state from 5:00 until 9:00 p.m., Thursday at Robertson-Drago Funeral Home.  Visitation will be prior to the service from 1:00 until 2:00 p.m., Friday, at Robertson-Drago Funeral Home. Burial will be in the Union Hill Cemetery.  Memorial contributions may be made to the Shaw Cancer Treatment Center and may be left at Robertson-Drago Funeral Home.