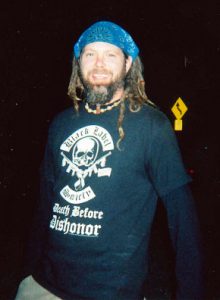 Services for Robert Truman Harris, Jr., 42, Mountain View, Missouri, formerly of Gamaliel, Arkansas, will be held at a later date.
Mr. Harris passed away at 12:30 a.m., Monday, October 31, 2016 at his home.
He was born August 3, 1974, at Charlotte, North Carolina, to Robert Truman Harris, Sr. and Charlotte Anne Newman. He attended Henderson State University where he majored in English and Psychology and played baseball and football (#33). He worked as a carpenter with his dear friend, Van Leach. Mr. Harris was an excellent guitar player, a fan of Grateful Dead and enjoyed baseball. He was a free spirit who loved the break of dawn and would want everyone he knew to drink a Guinness Stout in his honor.
He is survived by his former wife, Heidi Harris, Pomona, Missouri; one sister, Gretchen Harris, Reston, Virginia; and numerous nieces and nephews.