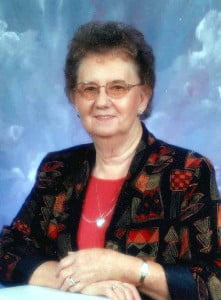 Funeral services for Roberta Good, 85, West Plains, Missouri, will be held at 10:00 a.m., Friday, November 20, 2015 in the Rose Chapel, Robertson-Drago Funeral Home.
Mrs. Good passed away at 6:44 a.m., Monday, November 16, 2015, at West Vue Nursing Center.
She was born September 26, 1930, at West Plains, Missouri, to Reverend Robert N. and Ruth Miller.  On November 25, 1948, she was married at West Plains to the love of her life, Edward Good.   They were married for 62 years.  She worked for West Plains R-7 schools for fifteen years.   Mrs. Good was charter member of Smith Chapel Methodist Church in 1950 and was a Sunday School Teacher and Church Secretary for many years.  She enjoyed Southern Gospel music and sang specials in church and the church choir.
She is survived by her son, Roger Good and wife, Sueann, West Plains; son-in-law, Ron Lambert, Drury, Missouri; very special sisters and brother, Gladys Shipley, West Plains, Joann Click and husband, Sam, West Plains, Danny Miller and wife, Theresa, State of Arizona and Judy Hubbard and husband, Mack, Koshkonong, Missouri; several nieces and nephews; and a host of friends, especially her beloved Church family.
Her parents, husband and one daughter, Karen Lambert, precede her in death.
Visitation will be from 6:00 until 7:00 p.m., Thursday, at Robertson-Drago Funeral Home. Burial will be in the Howell Memorial Park Cemetery.  Memorial contributions may be made to The Gideon Bible Society and may be left at Robertson-Drago Funeral Home.