Ronald Wayne Carlson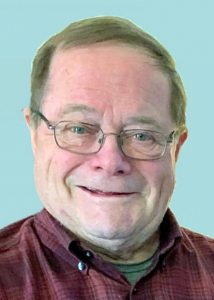 Ronald Wayne Carlson, 77, of West Plains died on Saturday, August 29 at the Mountain View Medical Center in Mountain View, MO. He had been in declining health for the past two years, and he passed away in his sleep from heart failure.
Ronald was born into the Baptist faith on March 13, 1943 in Grand Forks, ND. Father Ernest W. Carlson (1889-1979), Mother Clara A. Johnson (1894-1990), older sister Rosemary, and Ronald lived on Union Avenue in Fergus Falls, MN. Ronald first graduated from Fergus Falls High School in May of 1961 and then with a Bachelor of Science degree in Education from Moorhead State College, Moorhead, MN in June of 1965. He then started teaching in South Washington County schools (MN), where he met his future wife Karen Lucia Gilthvedt. They met while working at the same school, and Ron said to Karen at their first introduction, "Your last name is complicated, you should change it to something easy like Carlson." Ron and Karen married a short time later on 26 Jun 1966 in Roseau, MN (hometown of his bride). Ronald then volunteered to serve in the Vietnam War and in 1968 went to training at Fort Leonard Wood in Missouri. This is where Ronald appreciated the mild winters in Missouri compared to his time in Minnesota. He then served in the Arm's 101st Airborne, Administrative Division until his discharge in 1970 as a Specialist Five. While in the army, he earned the Army Bronze Star and the Army Commendation Medal. After his discharge, he returned to Moorhead State College to earn a Master of Science degree in Education. Ronald and Karen had two children – son Thad (b. 1971, Roseau, MN) and daughter Sari (b. 1973, St. Paul, MN). Ronald retired from teaching after 20 years and opened a small business called "Eagle Lake Lumber" near Ashby, MN where he supplied building materials to local carpenters. Not long after the death of his wife Karen in 2001, Ronald remembered the mild winters in southern Missouri and moved to West Plains, MO where he resided at 2304 Burke Avenue until shortly before his death. He was active with the West Plains Senior Center and the Community Garden. Ronald liked to fish and hunt ducks, pheasants, and deer younger in his life, and later in life, he liked to garden at home, read books, and brew his own beer. His favorite places to eat in West Plains were Colton's, Kentucky Fried Chicken, and the Pizza Shack. Ron Carlson was a patriot and the best America has to offer. He was a respected family man, was strong in his faith, got an advanced degree in education, was a teacher, a combat veteran, and a small business owner.
He was proceeded in death by his parents, his wife, and his brother-in-law Gary Gilthvedt. 
He is survived by his sister Rosemary and her husband Dean Colness, children Sari and Thad, brother-in-law Ron Gilthvedt and his wife Dr. Elizabeth, and by several nieces and nephews.
Ron's final wishes were to be cremated, and for his ashes to be spread in Otter Tail Lake (MN), where his family had a cabin from his younger years until he had a family of his own. His headstone marker will be placed in the Northwood Cemetery off the Moose River Road in northwest Beltrami County, MN alongside his wife's final resting place.