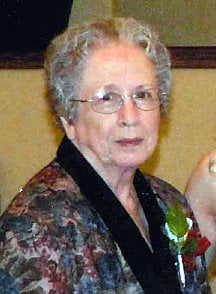 Funeral services for Rosalie Hudlow, 79, Pottersville, Missouri, will be held at 2:00 p.m., Saturday, November 21, 2015 in the Rose Chapel at Robertson-Drago Funeral Home.
Mrs. Hudlow passed away at 2:55 p.m., Tuesday, November 17, 2015 at Mercy Hospital, Springfield, Missouri, with her family at her side.
She was born November 11, 1936, at West Plains, Missouri, to Floyd Harvey Collins and Pauline Elizabeth Willard Collins.  On February 4, 1956, she was married at West Plains, Missouri, to Eldon Paul Hudlow, who preceded her in death on April 12, 2012; to this union one daughter, Debra Sue was born.  It's been the family joke that the lucky leprechaun married the ole battle axe and they had a little spook.  Eldon was born on St. Patrick's Day, Rosalie on Veteran's Day and Debbie on Halloween.  Rosalie worked for twenty-eight years at the International Shoe Factory in West Plains.  She also worked alongside Eldon remodeling and building three houses in which they lived.  Rosalie enjoyed watching hummingbirds, her cat and growing flowers.  She loved going to yard sales with Debbie and her silent arguments with Eldon; once going six weeks without speaking a single word to him.  On Fridays she enjoyed her town trips with her sister, Bonnie.  She loved spending time with her family and spent many hours watching "special" TV shows with her grandkids and great-grandkids.  Rosalie held many titles, but Memaw was her favorite.
She is survived by two grandchildren, Delbert Smith and wife, Katie and Casey Cleveland and husband, Jeremy; seven great-grandchildren, Gracie Smith, Tayten Cleveland, Teagan Cleveland, Jaden Smith, Newt Cleveland, Makenzie Smith and Brystel Smith; one sister, Bonnie England; two brothers, Alvin Collins and wife, Gloria and Earl Collins and wife, Candy; brother-in-law, Lowell Hudlow; sister-in-law, Pauline Tilson and husband, Enoch; and a host of nieces, nephews and friends.
Her parents, husband, daughter, brother-in-law, Delbert Hudlow and mother-in-law and father-in-law, Clella and Edmond Hudlow, precede her in death.
Visitation will be from 6:00 until 8:00 p.m., Friday at Robertson-Drago Funeral Home. Burial will be in the Ledbetter Cemetery.  Memorial contributions may be made to Ledbetter Cemetery or Ronald McDonald House and may be left at Robertson-Drago Funeral Home.