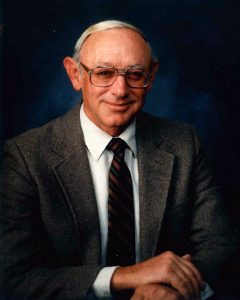 Roy F. Lester, Jr. went to be with the Lord on February 3, 2017.
He was born on the family farm in Fulton County, Arkansas, to Roy F. Lester, Sr. and Johnnie May Pemberton Lester.  He graduated from Bakersfield High School.  He attended the University of Missouri and graduated from Arizona State University.  He joined the United States Air Force, entering the aviation cadet program.  During his career he flew several models of trainer and fighter aircraft.  He served in the Vietnam conflict.  His last assignment was as the 1300th MAC Squadron Commander at Howard Air Base, Panama.  After his Air Force career, he returned to Missouri and went into the real estate business and ranching.  Roy loved his Lord, his family and his church.  As a deacon at the First Baptist Church, he served on the Benevolence Committee from its inception until recently.  For twenty five years, he was on the board of West Vue Homes, Inc.  He especially enjoyed Wednesday golf games with his buddies and traveling with his wife and family.
Roy was preceded in death by his parents.
He is survived by his wife, Pattye Powell Lester; a son, Peter F. Lester (Martha) and a daughter, Karen J. Lester; three grandchildren, Trajan V. Lester (Hannah), Asha A. Lester and Erin E. Lester; and three great-grandchildren, Amelia A. Lester, Oliver B. Lester and William F. Lester; one sister, Cora Lee Lester Sell (Dwain) and one brother, W. D. Lester; and many nieces and nephews.
In lieu of flowers the family requests the following be considered:  Wycliffe Bible Translators, The Gideon Bible Society or OMC Foundation for the Cancer Center, and may be left at Robertson-Drago Funeral Home.
A Celebration of Life will be held at 11:00 a.m., Wednesday, February 8, 2017 at the First Baptist Church, West Plains, Missouri.  Burial will be in Fayetteville National Cemetery on Thursday, February 9, 2017.