Ruby Maxine Driscoll Johnson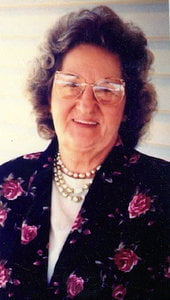 Ruby Maxine Driscoll Johnson, 95, West Plains, Missouri, passed away at 8:10 p.m., Tuesday, December 15, 2020, at West Vue Nursing Center.
She was born August 6, 1925, at West Plains, Missouri, to Thomas William Driscoll and Anna Courtney Hard Driscoll.  On April 21, 1943, she was married at Walnut Ridge, Arkansas, to Hugo Erhard (Bud) Johnson, who preceded her in death on December 23, 2013.  Three children were born to this union.  Ruby worked for over thirty years at the International Shoe Company before retiring.  She was a wonderful wife, mother, grandmother and great-grandmother and she loved her family.  She was a hard worker and loved to cook, can, sew and quilt.  Ruby made many beautiful quilts that the family has to cherish.  Her doors were always open to visitors and she made sure you would eat before leaving.  Ruby was a Christian and loved the Lord; she was a wonderful example to her family.  Mrs. Johnson was a long time member of Trinity Worship Center. 
She is survived by three children, Karen Sloan and husband, Bob, Perry Dwayne Johnson and wife, Melva and Ronald Johnson and wife, Pam, all of West Plains; five grandchildren, Eirik Sloan, Las Vegas, Nevada, Auga Sloan, West Plains, Teena Skiles, Brentwood, California, Amy Jackson, Branson, Missouri, Andrea Turner, Caulfield, Missouri; ten great-grandchildren, Brooke Skiles, Dallas, Texas, Alex Skiles, Denver, Colorado, Courtney and Maisie Skiles, Brentwood, California, Perry (Hobie) Johnson III and Morgan Johnson, both of Canada, Jacob Sloan, Scarlett Turner, both of West Plains and Sylas and Amson Jackson, both of Branson,  Missouri; one brother, Lloyd (Jim) Driscoll and wife, Delores; three sisters, Juanita Bean and husband, Joe  and Thelma Willard Montgomery and husband, Paul, both of West Plains and Mary Toney, Marion, Ohio; one sister-in-law, Laura Driscoll, Columbus, Maryland; and a host of nieces and nephews, who loved her very much.
Her parents, husband, one grandson, Perry D. Johnson, II, five brothers, Coy Driscoll and wife, Lillian, Perry Driscoll, Lonzo Driscoll and wife, Ida, Dean Driscoll and wife, Evelyn and Norman Driscoll, one sister, Dorothy Mahaffey and husband, Herb, and one brother-in-law, Victor Toney, preceded her in death.
Mrs. Johnson will lie in state from 5:00 until 8:00 p.m., Monday, in the Langston Street Chapel of Robertson-Drago Funeral Home.   A private burial will be in the Oak Lawn Cemetery.  Memorial contributions may be made to Homeland Cemetery or any charity of choice and may be left at or mailed to Robertson-Drago Funeral Home, 211 West Main, West Plains, MO  65775.