Ruby (Maxine) Foster Napier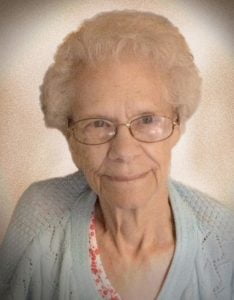 Funeral services for Ruby (Maxine) Foster Napier, 91, Ozark, Missouri, will be held at 2:00 p.m., Friday, November 19, 2021 in the Rose Chapel of Robertson-Drago Funeral Home.  
Mrs. Napier passed away peacefully into the arms of Jesus at 10:55 p.m., Friday, November 12, 2021, at her home.
She was born August 29, 1930, at Viola, Arkansas, to Roy and Evelyn Foster.  In 1957, Maxine married Clyde Lawrence (Jot) Napier.  They have lived in West Plains, Springfield, Noel, Republic, and now Ozark, Missouri.  She was actively involved in church in many capacities throughout her life, and she was known for serving others.
She leaves her husband, Clyde (Jot) Napier, of the family home; one son, Mark Napier and wife, Marijo, Grove, Oklahoma; one daughter, Shelley Napier, Ozark, Missouri; one grandson, Bryan Napier and wife, Amy; two granddaughters, Sara Foster and husband, Matt, and Emily Baker and husband, Dustin; one bonus granddaughter, Toyna Scott; seven great-grandchildren; four bonus great-grandchildren; one niece, Becky Bruner Barnett and husband, Randy; and two great-nephews, Michael Barnett and Justin Barnett and wife, Maddlyn.
Her parents, George Roy and Evelyn Rebecca Brown Foster, and sister, Darlene Rose Lee Foster Bruner, preceded her in death.  
Visitation will be held prior to the service, from 1:00 to 2:00 p.m., Friday, in the Rose Chapel.  Burial will be at Oak Lawn Cemetery.  Memorial contributions may be made to Eagles' Wings Ministries of the Ozarks and may be left at or mailed to Robertson-Drago Funeral Home, 211 West Main, West Plains, MO  65775.