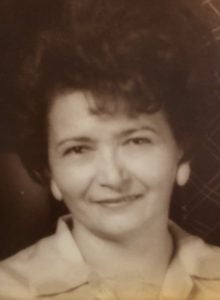 Funeral services for Ruby J. Mayou, 92, Pomona, Missouri, will be held at 2:00 p.m., Monday, May 7, 2018 at St. Joseph's Catholic Church, under the direction of Robertson-Drago Funeral Home.
Mrs. Mayou passed away at 10:10 a.m., Thursday, May 3, 2018 at her home.
She was born November 15, 1925, in Tela, Honduras, Central America, to Waldo Jones and Maria Gonzalez Jones. On January 28, 19 50, she was married in the State of Washington, to Ralph Joseph Mayou, who preceded her in death on June 16, 2008. She enjoyed teaching catechism, quilting and being outdoors. Mrs. Mayou was a member of St. Joseph's Catholic Church.
She is survived by three children, Katherine Ball and husband, Daniel, San Marcos, Texas, Michael Mayou and wife, Carol, Tucson, Arizona and Viviette Bell and husband, Ron, Round Rock, Texas; sixteen grandchildren, Stacy Alfredson, James Robert Burns, Autumn Brinklow, Daniel Christopher Ball, Carman Socha, Victoria Gaerlan, Alison Mayou, Alexis Richards, Gabriel Bell, Christopher, Nicholas, Dylan, Hayden, Noah, Emma and Annemarie Bell; sixteen great-grandchildren, Graeme, Evan, Tyler, Gavin, Elinore, Asher, Beckett, Andrew, Brenden, Jamie, Gunter, Cameron, Caitlin, Grant, Hailie and Hunter; three brothers, Robert Jones and wife, Lucy, Vincent Jones and wife, Susan and Franklin Jones and wife, Karan; and many nieces and nephews.
Her parents, husband, one daughter, Mary Ellen, one brother, Waldo and two sisters, Connie and Rita, preceded her in death.
Mrs. Mayou will lie in state from 1:00 until 9:00 p.m., Sunday, at Robertson-Drago Funeral Home. Burial will be in the St. Joseph's Cemetery. Memorial contributions may be made to O.M.I. and may be left at Robertson-Drago Funeral Home.