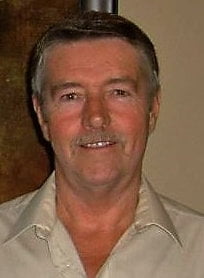 Russ Sortor passed away peacefully at home, with his family, in West Plains on Sunday, December 4, 2016 at the age of 69.
He is survived by his loving wife of 47 years Arlene; daughter, Deanna Michalowski and husband, Ryan, McCordsville, Indiana; son, Lt. Col. Paul Sortor and fiancée, Marisela, stationed at Scott Air Force Base Illinois; granddaughter, Devin Sortor, U.S. Territory of Guam; brother-in-law, Robert Hughes, Orland, California; two brothers, Doug Sortor and wife, Sharon, Grand Junction, Colorado and Chuck Sortor and wife, Kathy,Shiloh, Illinois; sister, Carol Acton and husband, John, Lakewood, Colorado; and many nieces, nephews, close friends and neighbors that he loved dearly.
Russ was born on July 31, 1947 in England during WWII to Arnold and Claudia Sortor. He joined the Air Force in 1967 as a F-111 crew chief during the Vietnam era. He was stationed at Nellis Air Force Base in Las Vegas, Nevada where he met and married the love of his life, Arlene. Following his military enlistment, he transitioned into a management career in the freight industry in Denver, Colorado, before relocating his family to West Plains in 1984 where he owned and operated several successful businesses, including Quality Automotive, from which he retired in 2012.
Russ enjoyed the holiday season, so he volunteered as Santa Claus at several venues including the West Plains Chamber of Commerce Breakfast with Santa and the Optimist Club Christmas parade. He was the patriarch of a close-knit family sharing strong Christian values. Russ was charming and charismatic with a witty sense of humor that made everyone laugh. He loved classic automobiles and enjoyed working on his farm.
A Celebration of Life remembrance will be held at 2:00 p.m., Saturday, February 4, 2017 at the West Plains Civic Center Theatre.  In lieu of flowers, donations can be made in Russ's honor to Ozark Medical Center, Cancer Treatment Center Nurturing Hope Expansion Fund and may be left at Robertson-Drago Funeral Home. The family would like to thank the many caregivers and medical staff at OMC and The Shaw Building for their efforts, care, and dedication.